I've been so busy finishing off my next book, I haven't had time to do any more candidates for my Trougher of the Year Trophy.
Previously I've done Baroness "The Pig" Ashton www.snouts-in-the-trough.com/archives/6685 and the BBC's Mark Thompson www.snouts-in-the-trough.com/archives/6652
So. I'll start that again – today Keith Vaz
Keith Vaz was first elected as the Member of Parliament for Leicester East in 1987 and has held the seat for a lucrative (for him) 26 years. In that time, with his salary, generous expenses, unbelievable pension and other bits and pieces he has probably cost British taxpayers somewhere around £9,100,000. But is he worth this huge amount of our money?
The delightful Keith "Vazeline" Vaz got his nickname for his uncanny ability to slip almost unharmed through the many scandals in which he has allegedly been involved. There have been so many unfortunate incidents, that I'll have to dedicate two days to the wily Mr Vaz and even then I can only touch on a few of them.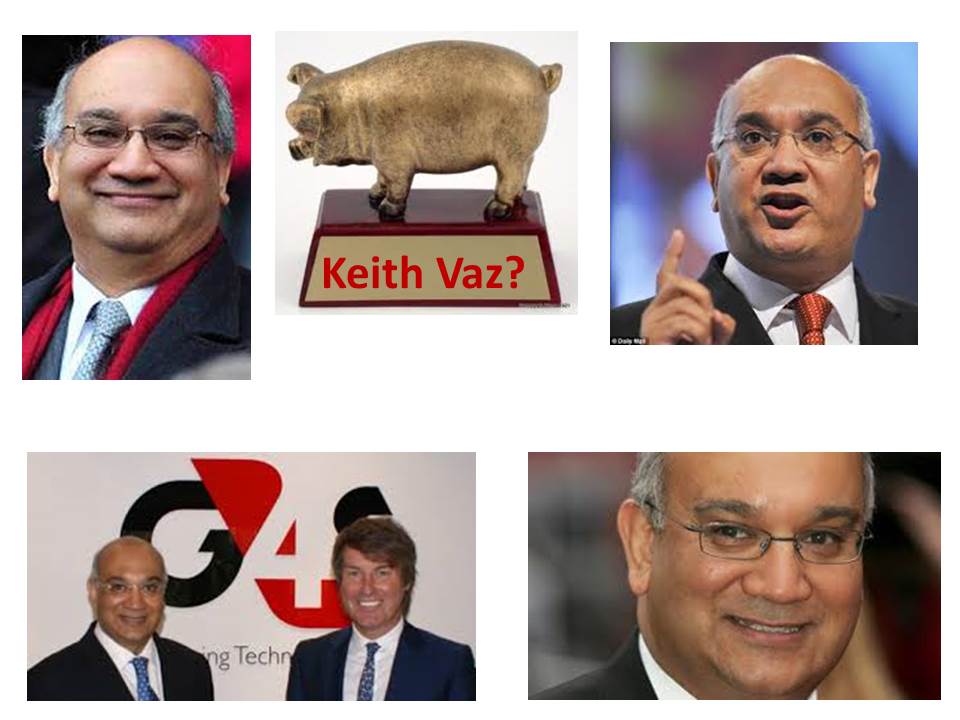 Rushdie affair
Shortly after being elected in 1989, Vaz led a march of thousands of Muslims in Leicester calling for Salman Rushdie's book The Satanic Verses to be banned. According to Rushdie's autobiography Joseph Anton, as quoted by Douglas Murray in The Spectator, Vaz had earlier promised his support against the fatwa: "Vaz said, in that phone conversation, that what had happened was 'appalling, absolutely appalling', and promised his 'full support'. A few weeks later he was one of the main speakers at a demonstration against The Satanic Verses attended by over three thousand Muslims, and described that event as 'one of the great days in the history of Islam and Great Britain'."
Leicester IRA attack
In February 1990, after a bombing attack by the IRA against a British Army recruiting centre in Leicester, Vaz publicly suggested that the Army had stored explosives on the premises
Filkin inquiry
In February 2000, the Parliamentary standards watchdog Elizabeth Filkin (probably one of the few honest people ever to have held that position) began an investigation after allegations that Vaz had accepted several thousand pounds from a solicitor, Sarosh Zaiwalla, which he had failed to declare. The allegations were denied by both Vaz and Zaiwalla. He was censured for a single allegation – that he had failed to register two payments worth £4,500 in total from solicitor Sarosh Zaiwalla. Elizabeth Filkin accused Vaz of blocking her investigation into eighteen of the allegations.
Hinduja affair
In January 2001, immigration minister Barbara Roche revealed in a written Commons reply that Vaz, along with Honest Peter Mandelson and other MPs, had contacted the Home Office about the Hinduja brothers. She said that Vaz had made inquiries about when a decision on their application for citizenship could be expected.
On 29 January, the government confirmed that the Hinduja Foundation had held a reception for Vaz in September 1999 to celebrate his appointment as the first Asian Minister in recent times. The party was not listed by Vaz in House of Commons register of Members' Interests and John Redwood, then head of the Conservative Parliamentary Campaigns Unit, questioned Vaz's judgement in accepting the hospitality. In March, Vaz was ordered to co-operate fully with a new inquiry launched into his financial affairs by Elizabeth Filkin. Foreign Secretary Robin Cook, Vaz's superior, also urged him to answer fully allegations about his links with the Hinduja brothers.
Vaz met Filkin on 20 March to discuss a complaint that the Hinduja Foundation had given £1,200 to Mapesbury Communications, a company run by his wife, in return for helping to organise a Hinduja-sponsored reception at the House of Commons. Vaz had previously denied receiving money from the Hindujas, but insisted that he made no personal gain from the transaction in question.
In June 2001, Vaz said that he had made representations during the Hinduja brothers' applications for British citizenship while a backbench MP. On 11 June 2001, Vaz was officially dismissed from his post as Europe Minister, to be replaced by Peter Hain. The Prime Minister's office said that Vaz had written to Tony Blair stating his wish to stand down for health reasons.
In December 2001, Elizabeth Filkin cleared Vaz of failing to register payments to his wife's law firm by the Hinduja brothers, but said that he had colluded with his wife to conceal the payments. Filkin's report criticised him for his secrecy, saying, "It is clear to me there has been deliberate collusion over many months between Mr Vaz and his wife to conceal this fact and to prevent me from obtaining accurate information about his possible financial relationship with the Hinduja family".
It's believed by some people that Vaz's influence led to Elizabeth Filkin losing her job and being replaced by someone much more compliant while the delectable Keith went on to higher better things.
Tomorrow – much more about Keith "Vazeline" Vaz.