Following various brushes with Elizabeth Filkin, the (I believe) honest, dedicated Ms Filkin was forced from her job to be replaced by a much more malleable establishment time-server. Meanwhile the "Right Honourable" Keith Vaz who is (I believe) a lying, greedy, self-serving, expenses-fiddling, home-flipping scumbag was allowed to continue leeching millions in taxpayers' money for many more fruitful (for him) years.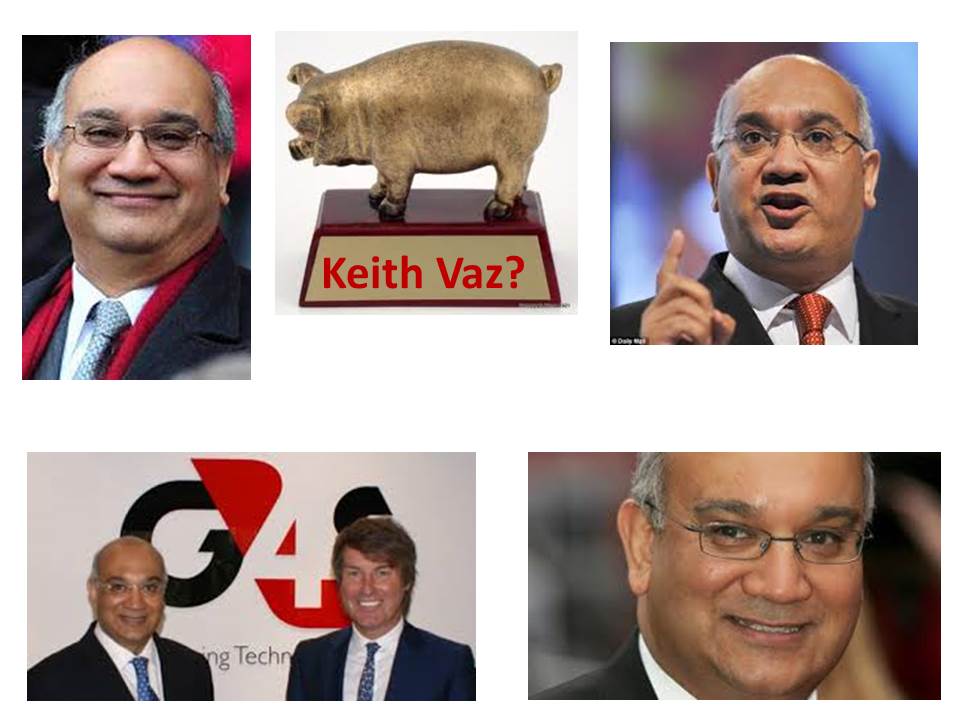 Suspension from House of Commons
In 2002, Vaz was suspended from the House of Commonsfor one month after a Committee on Standards and Privileges inquiry found that he had made false allegations against Eileen Eggington, a former policewoman. The committee concluded that "Mr Vaz recklessly made a damaging allegation against Miss Eggington to the Commissioner, which was not true, and which could have intimidated Miss Eggington or undermined her credibility".
Nadhmi Auchie
In 2001, it was revealed that Vaz had assisted Anglo-Iraqi billionaire Nadhmi Auchi in his attempts to avoid extradition to France. Opposition MPs called for an investigation into what one dubbed "Hinduja Mark II" Anglo-Iraqi billionaire Nadhmi Auchi was wanted for questioning by French police for his alleged role in the notorious Elf Aquitaine fraud scandal which led to the arrest of a former French Foreign Minister. The warrant issued by French authorities in July 2000 Auchi of "complicity in the misuse of company assets and receiving embezzled company assets". It also covered Auchi's associate Nasir Abid and stated that, if found guilty of the alleged offences, both men could face 109 years in jail.
Vaz was a director of the British arm of Auchi's corporation, General Mediterranean Holdings,
Home Affairs Select Committee
Vaz was elected Chair of the Home Affairs Select Committee, replacing John Denham, on 26 July 2007. He was unusually nominated to the Committee by the Government, rather than by the quasi-independent Committee of Selection which, under the Standing Orders of the House, nominates members to select committees. The Leader of the House argued that this was because there was not sufficient time to go through the usual procedure before the impending summer recess. The Chairman of the Committee of Selection told the House that the Committee had been ready to meet earlier that week, but had been advised by the Government that there was no business for it to transact. As Chair of this important committee, My Vaz regularly lectures all and sundry about the importance of probity in public life. You couldn't make it up!
Parliamentary expenses
In terms of expenses, Keith Vaz is usually in the top 10% of MPs by the amounts he claims and after the Telegraph revlations, Vaz was forced to make several repayments
BCCI "fraud" by Deloittes and Keith Vaz's "involvement"
I briefly came across the charming Mr Vaz in 2005. After my book RIP-OFF was published, I was contacted by someone claiming to be a senior forensic accountant at Deloittes. His story was that working on a team of hundreds managed by "Sir" Fred Goodwin, he had helped Deloittes defraud the creditors of the BCCI (Bank of Credit and Commerce International) of possibly up to £100m. The BCCI was based in both Luxembourg and London. When the Luxembourg authorities saw what Deloittes were up to, they took legal action against Deloittes and Deloittes settled out of court handing back many millions. At the same time, two British MPs, one of whom I believe was Keith Vaz, enjoyed a luxury, all-expenses-paid trip out to the Middle East to see what Deloittes were up to. Although the Luxembourg authorities apparently caught Goodwin and Deloittes with their hands firmly in the till, these two British MPs apparently saw nothing wrong at all and no action was taken against Deloittes in Britain.
You have to remember that the BCCI preyed mainly on British Asian businesspeople, many of whom were Mr Vaz's constituents. I contacted Vaz's office and explained that I had access to documents proving what Deloittes had been up to. In spite of several calls to his office, he never made any attempt to get back to me to look at the evidence that Deloittes had allegedly defrauded many of his constituents and supporters.
Yup, perhaps Keith Vaz deserves our much-coveted Trougher of the Year trophy