This is the 2nd in a series of blogs where I'll present the case as to who should win our "Trougher of the Year" trophy. Today, Baroness "The Pig" Ashton. As usual, I'll look at what The Pig has cost us and what she has done for us.
What has she cost us?
As the first head of the EU's diplomatic service. The Pig gets an annual salary of around  £260,000 – about the same as the US president, almost twice the £142,500 a British PM gets and over twice the £124,000 her counterpart, the US Secretary of State. Moreover, she has chosen to pay the extremely low EU taxes rather than UK taxes, thus saving herself around £40,000 a year.
When she leaves her EU job next year, Ashton will get a "transitional payment" of up to £464,000 payable over 3 years to ease her difficult transition off the gilded EU gravy train. In addition, she will be entitled to a pension of over £60,000 a year to add to all the other generous public-sector pensions she has accumulated in Britain. If you add up Ashton's salary, expenses and pension, then she has probably cost us over £4m for just her 5 years in Brussels.
Before her big Brussels job, Ashton spent about 26 years troughing in various public-sector and political jobs probably costing us about £5m in salary, pensions and expenses. So, all in all, the direct cost of Ashton to taxpayers will be somewhere in the region of £9m.
 What has she done for us?
When Ashton was appointed to her eye-wateringly lucrative position, one journalist wrote: "Never elected by anyone, anywhere, totally unqualified for almost every job she has done, she has risen to her current position presumably through a combination of down-the-line Stalinist political correctness and the fact that she has the charisma of a caravan site on the Isle of Sheppey." According to The Guardian, an anonymous Whitehall source said: "Cathy just got lucky…The appointment of her and Herman Van Rompuy was a complete disgrace. They are no more than garden gnomes".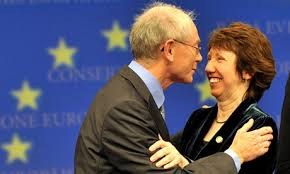 In February 2011, Baroness Ashton received the lowest grade in a survey rating the performance of European Commissioners. The survey, carried out by lobbying and PR company Burson-Marsteller, asked 324 Brussels policy-makers to rate the European Commissioners with a grade A to E (A being the highest). Ashton, a commission vice-president as well as the EU's high representative for foreign affairs, scored an E for her performance. She was the only Commissioner to receive a grade below D.
When she took over as head of the EU's utterly useless diplomatic service, Ashton promised  that her department would stick to its initial budget. But spending actually shot up from £383m in 2011 to £407m in 2012 and will be about £431m in 2013. The excuse given by Ashton's spokesman was that her department had more work to do than expected. I suppose he must have meant the EU's impotent, almost non-existent response to the "Arab Spring" which has now turned into the horrific Islamofascist "Arab Winter".
In fact, the only significant achievement I can find in Ashton's long years of "public service" is that she helped steer the disastrous Lisbon Treaty (which was just the previously rejected EU Constitution under another name) through the House of Lords. Signing away our national sovereignty by accepting the Lisbon Treaty was probably one of the greatest acts of treachery ever committed by any British government. But people like The Pig don't care what's good for Britain – they only care about advancing their own lousy careers.
So, there you have it – just a few reasons why the fragrant Pig should win our "Trougher of the Year" trophy. Next – Chris Patten.