Monday/Tuesday blog
Proud to be British?
Doesn't it make you proud to be British? Under Boris 'Churchill' Johnson's magnificent leadership, Britain is once again about to save the world. We did it in WWI and again in WWII. And now, as humanity battles the non-existent threat of non-existent climate change or climate crisis or climate emergency or climate breakdown or whatever it's called this month, Britain is yet again about to sacrifice untold billions and impose huge deprivation and suffering on its own population to supposedly save the world.
Britain saves the world?
Here's a brief quote from our Government's International Climate Finance website:
Domestically and internationally the UK is a leader on climate change. We played a pivotal role in securing the Paris Agreement in 2015, where the world came together to agree a plan to limit temperature rises to below 2 degrees. We have reduced our emissions quicker than any other country in the G20, drawing on the depth and breadth of UK low carbon knowledge and expertise and creating new economic opportunities. Since 1990 the UK economy has grown by two thirds while emissions have fallen by over 40%. We have ended UK support for unabated coal power generation and, across the world, UK businesses are helping to make the global low carbon transition a reality.
Doesn't this make your heart swell with pride? Doesn't it make you want to jump up and start singing Rule Britannia and yell "Hooray for Boris"?
A few minor niggles?
Of course, there are a few minor problems with the UK's economically-suicidal Save the Planet crusade such as there being absolutely no evidence at all that an increase in a trace gas CO2 from 3 parts per 10,000 of our atmosphere to 4 parts per 10,000 over 150 years has any effect on the Earth's climate:
Arctic sea ice at this time of year declined from 1980 to 2007, but has stabilised since the 4 million km2 in 2007 in spite of increasing atmospheric CO2 levels and this year was around 5 million km2
Antarctic ice is increasing by around 82 billion tons a year burying two U.S. research stations and forcing the Americans to build their latest Antarctic research station on hydraulic stilts so it can be raised as the ice increases
Sea levels are NOT rising – for example, the Maldives, which should have been under water three years ago, have a new runway at their main airport to handle larger jets and next year will complete a new passenger terminal increasing capacity from 1 million to over 7 million passengers a year
The polar bears are thriving and may be facing a food crisis as there are too many of them
Flooding in China killed about 78 people this year compared to a couple of million a hundred years ago
U.S. forest fires are only burning about a quarter of the acreage burnt in the scorching 1920s and 1930s when atmospheric CO2 levels were much lower than they are now
We are in the middle of an interglacial caused by Milankovitch Cycles so one would expect a slight warming
And. of course, the computer models used by the climate catastrophists and governments to impose their coercive, economically-ruinous climate policies on us hugely overestimate (about doubling) the actual amount of warming: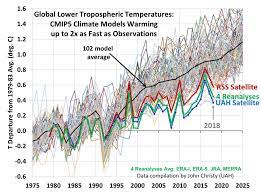 Who cares about reality?
But our rulers', the West-hating lefties' and our deluded, indoctrinated schoolchildren's climate catastrophism is impervious to reality. It's a semi-religious cult which relies on feelings and belief rather than anything as sordid as rational, scientific analysis. And so, onwards we rush like lemmings to our self-inflicted economic impoverishment while the Chinese laugh their hairy yellow asses off at our stupidity:
Here's a link to our Government's climate change website should you be interested in more details about our useless Government's total uselessness:
https://www.gov.uk/guidance/international-climate-finance
Why are Tory MPs so worthless?
By the way, a couple of months ago I sent copies of my latest book THERE IS NO CLIMATE CRISIS to several Tory MPs:
John Redwood
Greg Clark
Steve Baker
Tom Tugendhat
Christopher Chope
I had hoped that maybe a couple of them would have the intelligence to realise that my book was quite important as it could help prevent our country committing economic and societal suicide. In my dimwitted, childish naivety I even imagined that a couple of them might have had the wit to tell their colleagues about the book and the courage to inform Boris 'Churchill' Johnson that he needs to stop all his self-destructive, idiotic climate catastrophist nonsense and start dealing with the real problems affecting Britain.
How wrong I was expecting intelligence and courage from our (IMHO) mostly greedy, expenses-fiddling, self-serving, sycophantic, scientifically-challenged, worthless, Ed-Miliband-think-alike, waste-of-skin MPs!
Still, at least Sky News Australia realises how stupid we are in the UK: