Wednesday/Thursday blog
(a slightly different subject today, but hopefully one some readers will find mildly interesting and one which none of the mainstream media will dare touch for reasons that I hope will be obvious)
You're fired!
Something rather odd is happening in New York State. A mandate came into effect that by Monday evening this week, all the state's hospital and care home workers had to have had at least one dose of a vaccine against the Chinese Wuhan plague. Following this, hospitals have started suspending and firing hundreds of healthcare workers who refuse to get the vaccines. Any employee of a state-run health care facility who does not receive at least one vaccination dose by the end of the day Monday, barring approved exemptions, "will be immediately suspended," according to the New York State Department of Health.
For example, Northwell Health, a New York hospital system with over 76,000 employees, said in a statement Tuesday that they have begun a "process to exit all unvaccinated team members."
Probably over 98% of healthcare workers have complied with the mandate. But there are (I think) over 450,000 healthcare workers in the state, so that still leaves possibly up to 9,000 who for whatever reason either have medical exemptions from the vaccination or else who have some reason have concerns about the vaccines.
We don't accept liability, no way
Here's part of the contract which Pfizer uses when making agreements to supply its vaccine to governments: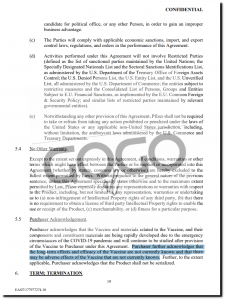 (left-click on image and then left-click again to see more clearly)
As you'll see,  this includes a clause: "Purchaser further acknowledges that the long-term effects and efficacy of the Vaccine are not currently known and that there may be adverse effects of the Vaccine that are not currently known"
Reassuring?
Personally I have taken the vaccine and will take any boosters as I believe that for my age group the vaccine will reduce the chance of severe symptoms when I do catch the Chinese Wuhan plague as we will all do at some point thanks to the sterling work of Dr Frankenstein Fauci, Peter Daszak and their Chinese chums in a filthy, unhygienic Wuhan lab. But there are good reasons to ask whether younger age groups should be coerced into getting vaccinated against a disease that many of them will not even notice.
The molecules or the method?
We've all seen the stories about a few people in every million vaccinated getting heart inflammation or rare blood clots following vaccination. And it seems that there are some people who do suffer severe and even fatal consequences from vaccination. It is assumed that the products in the vaccines are responsible. But there is another theory which I haven't seen discussed anywhere in the mainstream media – that it is the method of vaccination which may be responsible for the injuries and deaths.
The big 'aspirate' question
From the miniscule amount I understand, there are two main types of injection – intravenous (direct into a vein) and intramuscular (into a muscle). Most, if not all, common vaccines are given intramuscularly.
Prior to Xi Pingpong's Chinese plague each year around 16 billion injections were given worldwide. A large number of these are given via the intramuscular (IM) route. Many nurses have been taught to aspirate before giving an IM injection to ensure the medication is not inadvertently delivered into a vein. Aspiration consists of drawing back on the plunger once the needle has been inserted to see if any blood returns into the syringe. It has been recommended that this negative pressure be sustained for 5–10 seconds.
Aspiration avoids the danger of an intramuscular injection accidentally going directly into a vein.
Aspirating when giving a vaccine is clearly a slightly more complex, time-consuming and a slightly more painful method than just ramming the needle in and vaccinating. In order to vaccinate hundreds of millions against Fauci's plague, governments in many countries have had to recruit tens of thousands of vaccinators, many with little to no medical experience, and have had to convince hundreds of millions of us to overcome our visceral fear of having painful needles jammed into us. For example, the ludicrously-misnamed World Health Organisation, which allowed the Chinese plague to spread worldwide on the instructions of its Chinese controllers, advises against aspiration "in order to minimise pain".
This is possibly why most countries have instructed their vaccinators to not bother with the safety precaution of aspirating when vaccinating us.
So, it is possible that the rare severe effects and occasional deaths from the vaccines are being caused by the vaccine accidentally being injected directly into a vein rather than a muscle and not by the actual contents of the vaccines themselves. It may be the shortcuts being taken with vaccinations and not the actual vaccinations which are causing the problems.
Here's Dr John Campbell explaining this possible conundrum:
(you only need to watch the first few minutes of the video to see where he's coming from)