(Friday/weekend blog)
This is probably the most important question facing Western civilisation. So I'm hardly likely to come up with profound insights to do justice to it in a 600- to 700-word blog written at 05.00 on a Friday morning.
But anyway, here goes:
We've never had it so good
We really have never had it so good in the West – at least up until the arrival of Chairman Xi Pingpong's Wuhan-lab-released virus:
Human progress – Most of the advances in science, technology, medicine, literature, the arts and political structures have come from the West
No wars – There have been no major wars since 1945. But most people's parents and grandparents had to live through either WWI or WWII
Education – We have better education than ever before. When I was at university less than 10% of school-leavers went on to higher education. Now half of all school-leavers go to 'uni' and, as many of their degrees are pretty worthless, they'll never earn enough to have to pay back any of their £50,000 student debt and so are getting a free three-year holiday courtesy of the few people who work and pay taxes
More leisure time – We all have a limited time on this earth. But our lives in the West were so easy that millions spent much of their time playing with their phones, watching programmes on TV about people watching programmes on TV (Gogglebox) and binge-watching box sets on streaming services
Unlimited everything – whether it's food, cheap products, fashionable clothes or whatever, the choice available to us is almost unlimited. Never before in human history have so many people had such  abundance as we in the West now have
Yet, in spite of these and many more advantages, millions of people in the West despise their own countries, are obsessed with denigrating everything about the West and seem consumed by often violent self-hatred: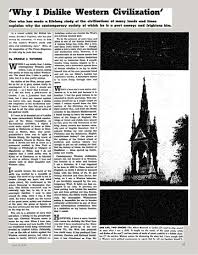 The big question for our times is – "why?"
Obviously different groups have different reasons for their apparent self-loathing. Here let's just look at three main groups:
Group 1 – Leaders – the Hitler syndrome
No movement can rise up without leaders. And so it is with the new self-hating, West-loathing movement. If you look at the manifestos of Extinction Rebellion or Black Lives Matter or Antifa you'll see that their key aim is to destroy existing Western civilisation and replace it with a new state-controlled Utopia designed and led by them.
As for their leaders, they are usually people looking for power over others. Their supposed 'cause' – saving the planet from an imaginary threat, eradicating (usually imaginary) racism or fighting against imaginary fascism – is just a convenient vehicle for these people to destroy what exists in order to elevate themselves to positions of power, influence and, of course, self-enrichment. Hitler and Robert Mugabe seem to be role models for these leaders.
Group 2 – the Immature Mis-educated Narcissists
The largest group of self-haters are probably the sheep-like followers of the leaders' causes. These are usually immature narcissists. Their main motivation is virtue-signalling. They want to draw attention to themselves, to display what enlightened and decent people they are, prepared to right the largely imagined wrongs of the past and confront the supposedly 'wrong-minded' folk of the present – anyone who disagrees with them. It's a modern form of self-flagellation, an egocentric, narcissistic, self-centered immaturity.
Instead of maturing into responsible adults who give and take from a healthy community and family, they have become a bunch of whining, materialistic egotists and when their inflated expectations of "selfhood" are inevitably dashed by the realities of life, this results in greater and greater discontent, bitterness, and resentment.
These are the people Douglas Murray (I think) described as being "educated into imbecility".
These people are so convinced of their own intellectual and moral superiority that they have usually already decided their position on every issue long before they actually know what the issue is.
Group 3 – the Destruction-obsessed Nihilists
A third large group are the Nihilists. They are usually people who are unhappy with themselves. But rather than trying to improve their own lives, they blame other for their own inadequacies. They are often consumed by envy of those who are happier than themselves and they would rather will death and destruction on everyone than not will anything at all:
The Nihilists are determined to poison and weaken all of society's instincts and institutions from marriage and the family to the police and armed forces to democracy itself in order to drag everyone down to their level of unhappiness.
Conclusion?
I don't have one. That's quite enough 'deep thinking' for a freezing Friday morning.
Oh, just one thing to add.
As the son of an immigrant who fled to Britain to avoid precisely the kind of dystopian horror-story countries of the type the fascist, West-loathing, free-speech-crushing self-haters are trying to impose on us, I find their disgust with the relatively free, partially-democratic, partially-enlightened West totally incomprehensible.