One story I liked this week was that Padma Lakshmi the former American/Indian model and former fourth wife of the famous Indian/British writer Sir Salman Rushdie has herself now written a book about their brief three-year marriage accusing him of being "jealous, needy and sexually insatiable".
Here's a photo of the couple in happier times: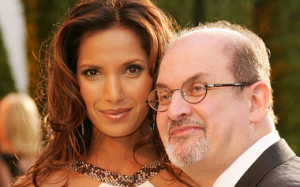 I have a question for ex-Mrs Rushdie – look at the picture, darling, and ask yourself why do you think the dirty old dog married you when he was 56 and you were only 33 .
I will make this simple, love, by only giving two multiple choices. Did he marry you because of:
A) Your towering intellect and scintillating conversation?
or
B) Unlimited opportunities to play with your tits and shove his (viagra-assisted?) helmeted warrior of love into your mouth, pussy and a certain other orifice we don't mention in polite company?
No need to think about it too long, poppet. It's not a trick question.
(I suspect that for filthy old lecher Sir Salman the answer was always clearly 'B'. But perhaps in order to bed his lovely fourth ex-wife, he managed to convince her the answer was 'A'. And such a difference of views about the purpose of the marriage was never going to lead to a successful, long-term relationship)
Here's a thought for you, former fourth Mrs Rushdie. Judging from what I've seen from the behaviour of Indian men in the Land of Smells – where you always have four, five or six men taking just one girl for boom boom – you're lucky the famous scribbler Sir Salman didn't invite round all his Indian friends for a bit of fun with you and your various orifices. Ooops! Maybe he did and that's why your marriage hit the rocks?
Funny old world, isn't it, former Mrs Rushdie?
Still, no doubt you walked away with plenty of money from Sir Salman for each time the great writer plunged his mighty (viagra-enhanced?) pork sword into your body during your courtship and then three-year marriage.
But what does that make you, former model and former Mrs Rushdie?
Here's a hint, honey – it rhymes with substitute. Alternatively it rhymes with score or bore or even more.