The population of the Arab world is exploding, both figuratively in that it is increasing frighteningly fast, but also literally as some Arab men are blowing themselves up as they seek a fast track to Paradise and their 72 virgins who, according to some aging bearded cretin (sorry, I meant 'respected *sl*mic cleric') "have skin like alabaster and are not tainted by menstrual blood or faeces".
In Saudi Arabia, for example, there were 4.2 million people in 1961. By now there are probably over 30 million: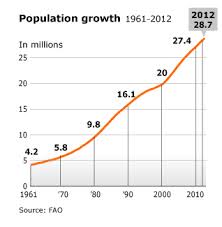 That poses a problem for Arab leaders – how to find useful work for their teeming and ever increasing millions.
Of course, some countries – Syria, Libya and Iraq – have launched rudimentary population control programmes: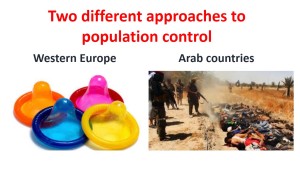 But this has hardly slowed the rapidly increasing number of Allahu-Akhbar-screaming lunatics intent on conquering our planet and destroying civilisation.
For a start, as I explained in a blog a few weeks ago, the average IQ of Arabs (82), though above that of sub-equatorial Africans (69), is far below that of Europeans and Chinese (100). Most of these Arabs are thicker than the thickest person you've ever met. Maybe that's why they adore their hideous, violent, intolerant, bloody, supremacist death cult which they mistakenly call a 'religion'?
The women are not the issue. Most of them are locked away till they're 15 or 16 and then married off to be the third or fourth baby factory for lecherous 50- or 60-year-old men.
It's the young men that are the problem.
I recently read a book about Saudi Arabia's efforts to encourage foreign investment creating jobs in that country and why this was a failure as foreign firms found 'It was not only that decades of state largesse had made the younger generation disinclined to work, but also that the education system, which overemphasized religious instruction, had failed to give them the skills they needed to work productively'.
So, I tried to imagine what a job interview for a US company looking for an apprentice maintenance engineer for say a new air-conditioning factory or car factory might look like:
Interviewer: Abdul, I see you came top of your class. That's impressive.
Abdul: God looked kindly upon me and gave me that result, Inshallah! He who is the only God, and is the God I serve, will use me an his instrument to bring death and disaster to the filthy Jews and the bastard sons and daughters of America, the Great Satan. For they shall all go to Hell as the one and only true God has demanded, Allahu Akhbar!!!!!
Interviewer: Um, yes, of course. And what were your favourite subjects at school, Abdul?
Abdul: Reading the K*r*n, understanding the K*r*n and memorising the K*r*n. For the K*r*n is the word of God as given to his prophet, M*h*mmed. And the K*r*n teaches that the recompense of those who wage war against God and his Messenger and do mischief in the land is that they shall be killed.
Interviewer: Abdul, what is it about mechanical and electrical engineering that specifically interests you?
Abdul: I want to learn how to make bigger and better bombs so I can attack the crusaders and drive them from the land of Allah, the only one and true God, and his prophet M*h*mmed the slaughterer and beheader and crucifier of infidels. Allahu Akhbar!!!!!
Interviewer: Yes, very interesting. And what about your longer-term ambitions, Abdul? What is your main goal over the next five years?
Abdul: To die for my God as a martyr killing as many unbelievers as possible. Then I will go to Paradise and live in eternal pleasure with 72 virgins as my reward while all unbelievers will burn in Hell for eternity.
Interviewer: Thank you, Abdul. It's been a very useful meeting. As I'm sure you know we have a lot of other highly-qualified candidates to see today. But we'll let you know our answer by the end of next week.
Abdul: If you American Zionist pigs dare open a factory here and enslave the sons of *sl*m trampling on their honour and desecrating their holy country of the two mosques, I will willingly give my life to send you to Hell. It has been ordained that *sl*m will conquer the world and the unbelievers shall pay Jizya to their M*sl*m rulers or shall be put to the sword and their heads shall be cut from their bodies, Inshallah!
Interviewer: I fully understand. And I promise you'll here from us very soon.
The interviewer stands up and tries to shake hands with Abdul. Abdul refuses the handshake, spits on the floor in front of the interviewer and then leaves the room frothing at the mouth while screaming "Death to America!!! Death to the Great Satan!!!"
Interviewer: Good grief! I've done 20 interviews today and every one of the candidates has threatened to kill me. I'm not sure we should be opening a factory here.
(You can leave comments by clicking on the headline of each day's blog)