When telling us about immigration, the Government likes to use 'net migration' figures. 'Net migration' is, of course the number arriving in Britain minus the number leaving. Net long-term migration to the UK (immigration less emigration) was estimated to be 318,000 in the calendar year 2014, a statistically significant increase from 209,000 in 2013.
Ooops. Not quite the cut to "tens of thousands, no ifs no buts" that Cast-iron Promise Dave pledged!
The Government uses 'net migration' figures because it knows that most people have busy lives and short attention spans and so, when thinking about immigration, will just remember the 318,000.
For us ordinary people there are two problems with the Government's use of 'net migration':
1. It hides the real number of people flooding over our apparently non-existent borders
2. It says nothing about the quality of people leaving compared to the quality of people arriving
So, let me try to deal with these two issues today:
1. The number of people flooding in
Despite the Government never mentioning how many people are descending on Britain, we fortunately have statistics for the number of National Insurance number issued (click twice on chart to see more clearly)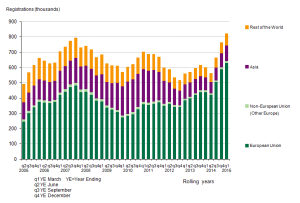 These show that 641,000 people immigrated to the UK in 2014, a statistically significant increase from 526,000 in 2013. But the rate of arrival is shooting up and is now running at an extraordinary over 800,000 people a year – 66,000 a month, more than 3,000 every working day – arriving in Britain.
This is not immigration! This is an invasion!
2. The quality of people leaving
An estimated 323,000 people emigrated from the UK in 2014. Overall emigration levels have been relatively stable since 2010.
Here are the reasons people are leaving (click twice to see more clearly)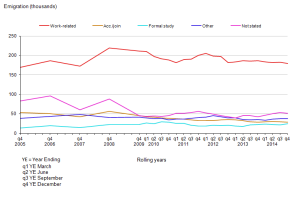 Around 200,000 of the 323,000 people leaving are going abroad to work. This rather suggests that we are losing our brightest and our best. Meanwhile pictures of the 2015 migrant swarm give us some idea of the kind of people now trying to come here:
So, beware the 'net migration' con. Be aware that although 641,000 people came to Britain in 2014, immigration is now running at a rate of over 800,000 a year. Moreover it is far from certain that the quality of the people arriving in our country is anywhere near the quality of people leaving.