Ever since Blair and Straw and Mandelscum and Campbell opened Britain's borders in 1997 to rub the faces of the middle classes in multiculturalism we have been constantly told that immigration has been good for Britain. Anyone who has dared question whether 8 to 10 million people flooding into Britain at the rate of 50,000 a month for fifteen years has been good for our country was immediately accused of being bigoted and racist.
Various reasons have been put forward for why immigration is so great – we have an ageing population and so need young workers; we need the skills immigrants bring or even immigrants' cultures enrich our country (FGM, forced marriages, mass rape, first-cousin marriages, intolerance, violence, terrorism, censorship etc)
Using massive figure-fiddling various, usually left-wing academics have written report after report trying to prove that immigrants make a positive contribution to our economy. One trick these reports use is to claim that immigrants pay more in tax than they take in benefits. But these reports usually don't mention how much immigrants cost our public services – hospitals, schools, housing, police etc.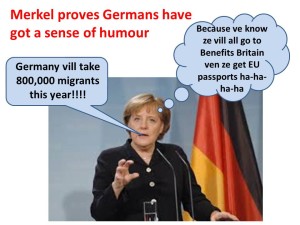 There is one report by the UCL which claims to take into account the public services used by immigrants. But one of the co-authors was the 'expert' who advised New Labour that only 13,000 Poles would come to Britain. In reality over a million came. I think that tells us all we need to know about this idiot's credibility and political bias.
Anyway, if immigration is so great, why aren't the various EU countries crawling over each other to invite the immigrant hordes into their countries? Why don't countries want the supposed 'economic benefits' and 'cultural enrichment' we've been told immigrants bring?
We all know why. Because immigration has been an economic, cultural and social disaster. Because immigration has led to our schools and hospitals coming close to collapse. Because immigration has pushed up the cost of housing so British people can no longer afford their first homes. Because immigration has overwhelmed our police so they no longer investigate minor crimes and, because of political correctness, no longer investigate any crimes perpetrated by immigrants, especially M*sl*ms.
Yet now, as our borders are overwhelmed by the migrant locust swarms, suddenly our rulers are telling us we must "share the burden". Ooops. I thought we've always been told immigration was a "benefit". Now our rulers are admitting it is a "burden". It's a pity they didn't realise this 15 years ago.
To end, I'd like to include a Winston Churchill quote a reader posted on yesterday's blog. Churchill explains why politicians fail to learn from history and why everything our rulers are now doing is pathetically too little pathetically too late:
"When the situation was manageable it was neglected, and now that it is thoroughly out of hand we apply too late the remedies which then might have effected a cure. There is nothing new in the story. It is as old as the sibylline books. It falls into that long, dismal catalogue of the fruitlessness of experience and the confirmed unteachability of mankind. Want of foresight, unwillingness to act when action would be simple and effective, lack of clear thinking, confusion of counsel until the emergency comes, until self-preservation strikes its jarring gong–these are the features which constitute the endless repetition of history."