Many readers will be aware that some puffed-up, management gobbledigook-spouting, pea-brained top cop, Chief Constable Sara Thornton, head of the new National Police Chiefs' Council (NPCC) has announced that the police are far too busy doing important things and so in future won't bother even turning up if your home has been burgled: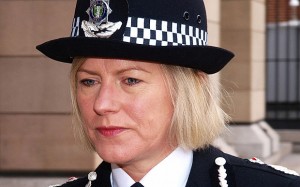 But what are these 'important things' that are keeping Plod and company so busy. Here's Ms, sorry I meant Chief Constable, Sara Thornton's explanation "We need to move from reacting to some of those traditional crimes to thinking about focusing on threat and harm and risk and really protecting the public".
That's helpful.
But perhaps I can be of assistance to Ms, sorry I meant Chief Constable, Thornton in shedding light on how our police spend a good deal of their time. Here's an announcement on Twitter from the head of the Scottish police:
Please be aware that we will continue to monitor comments on social media & any offensive comments will be investigated #georgesquare

— Police Scotland (@policescotland) December 23, 2014
At first you probably thought this is a spoof. But it seems to be genuine.
I recommend that readers click on the link below to the Scottish police's Twitter message to see the reaction of the public to this threat from the Scottish police who would apparently rather spend their time surfing the Internet to find people committing 'thought crimes' than cruise our streets  chasing people committing real crimes
twitter.com/policescotland/status/54739541041192141
The problem is that under the Labour Governments of 1997-2010 the police were totally politicised and subject to abiding by political correctness so much so that they are just not fit for purpose, at least the purpose most of us who pay for them want.
The police are now part of the parasite public sector, existing to spread and entrench multiculturalism and to punish those who oppose it.
There are probably some decent types in the police, who want to do an honest job, and they have my sympathy for having such worthless bosses. But I have no doubt that the only way to get along in the police force is to be seen to support diversity and especially to be tough to the point of a police state in suppressing supposed racism, *sl*mophobia and homophobia – the unholy trinity of idiotic fetishes of our unaccountable masters. Anyone above the rank of Inspector is really just a political administrator.
Senior officers like Ms, sorry I meant Chief Constable,  Thornton have never been police officers in the accepted sense. They have been fast-tracked from university, through Bramshill Police College to high rank without ever seeing an angry man much less having been involved in dealing with hooligans and criminals. They all compete with one another to see who can come up with the brightest new gimmick to further their personal ambitions. Political correctness has become their bible. Spouting fashionable management gobbledigook has become their only way of communicating.
Fortunately there are still good police officers who uphold and follow the common law duties of a constable – the protection of life and property, the prevention and detection of crime and the prosecution of offenders against the peace. But they are being driven to distraction by the likes of Ms, sorry I meant Chief Constable, Thornton, as her latest absurd pronouncement indicates. Criminals are the winners and the law abiding public are the losers.
So, if you're ever burgled, just say you're black or M*sl*m or LBGT and that the burglar sang racist or sexist songs whilst doing your place over … the police will come a-running then.