More media lies about the Religion of Peace?
You might have heard or read in the media about a suicide attack on a police station in India a couple of days ago. I suspect that if you Google this, you will find that not a single report of this attack in any British mainstream media mentioned that Punjab Police personnel said they heard terrorists shout 'Allah hu Akbar' — Arabic for 'God is great' — as a gunfight between the attackers and security forces in Gurdaspur entered its 10th hour, indicating the assault was yet another suicide attack by members of the Religion of Peace.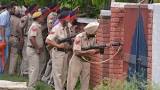 The BBC certainly didn't mention this and the Guradian even claimed the attackers were Sikh militants demanding an independent homeland even though there is little evidence of Sikhs ever mounting such suicide attacks.
I wonder why the fact that the attackers were the usual mad Muzzies was omitted by (I think) all the British mainstream media?
Voting – what choice did we have?
Although the Tories claim to have 'won the 2015 election', I still believe it was the horrific thought of the ghastly anti-Trident strident Sturgeon running the country by holding the pathetically weak Ed Miliband's testicles in one hand and squeezing very tightly that forced reluctant voters to tick the Tory box.
At the time of the election, one kind reader generously produced a YouTube video I wrote featuring a spoof election broadcast by our great leader. Even though the poor excuse for an election is over, I believe the video is still relevant.
Here it is for anyone who hasn't seen it already: