Over the past few days, while doing exercise, I've been watching a BBC programme called The Housing Enforcers. It's about some journalist who goes around with local council housing officers.
The housing officers do some good work, for example trying to prevent (mainly Asian) landlords cramming up to 5 people in some dirty room with broken windows, no heating and mould all over the walls.
But I almost threw a brick at the TV when I saw how these housing officers threw our money at girls who were always referred to sympathetically as 'single mums' as if pregnancy was something that just happened rather than something which required your active participation.
One girl with a young child was given a council house with a large garden. She kept gushing about how "supportive" her family were. Sadly for us taxpayers, it seems the girl's family weren't quite supportive enough to give her somewhere to live. No. That was left to us long-suffering taxpayers.
And as for her large council house garden, of course she didn't have time to look after that, she claimed. Though, as she was unemployed (and too stupid to be employable) and got free childcare, it's far from obvious what kept her so busy all day (watching Jeremy Kyle? Smoking? Shagging? Getting pregnant again?). Anyway, as she clearly had no intention of keeping the garden under control, the housing officer generously offered to send people round from the council's gardening staff to do the gardening for her. Yet more taxpayers' money down the drain.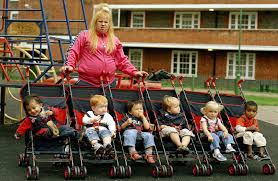 Another girl, probably aged well under 20, was pregnant but didn't yet have any children. Nevertheless she was already being given a council flat because she claimed she couldn't live with her mother as they spent the whole time "aguwin". No problem, the housing officer, assured her. Don't want to live with your mother? We'll give you somewhere to live. After all, it's only taxpayers' money that was being wasted.
I'm not sure if either of these girls, nor the many others being housed at our expense, had the slightest clue which of their many shags had resulted in their pregnancies.
We are so generous to the lazy, useless, sexually-incontinent slobs in our society, it could make you weep.
It seems to me we need to tighten up the rules. Nobody under say 25 years old should ever get taxpayer-funded accommodation if they still have a living parent. Let their parents look after them. The thought that they and their child (or children) might have to live with their parents for a few years might dramatically reduce the number of pregnancies among single girls much more effectively than any known form of contraception.