Here are four nice photos from Iraq – the cradle of civilisation.
These photos show the *sl*mic State's (ISIL's) victory parade in the Iraqi city of Ramadi in the last few days (click to see photos more clearly)
But can you guess what's missing from these photos?
A: Beheadings and crucifixions? Don't worry, those have already started, they're just not shown in these pictures
B: The Iraqi army? (an oxymoron if there ever was one) Not a bad guess. Though given the way ISIL treats prisoners of war, I'm not surprised all the Iraqi officers buggered off long ago and their 'soldiers' soon followed. None of them were keen to stick around for obvious reasons
C: Women and young girls? Well, obviously there aren't any of them around. They're either in their homes covered by large black sheets having been liberated by true M*sl*ms or else, if they're not M*sl*ms or are the wrong kind of M*sl*m, they're being sold as sex slaves for fighters who don't want to wait till they go to Paradise to get their 72 virgins
Come on, surely you can do better than that? No ideas? OK, then I'll tell you. What's missing from these photos are allied airstrikes. What's missing are allied missiles and bombs sending this bunch of bloodthirsty M*sl*m lunatics to Paradise.
Our military intelligence (another oxymoron, I'm afraid) knew that Ramadi had been captured. Military intelligence could have guessed that ISIL would hold a victory parade loudly cheered by the Sunni inhabitants of Ramadi. Using satellite observations or reconnaissance planes, our military could have spotted all the ISIL fighters and vehicles gathering for the parade and sent planes and drones to wipe them out.
But we did nothing.
Just look at how many ISIL fighters and vehicles are sitting ducks.
But we did nothing.
WTF were our military commanders doing? Were they too busy setting themselves up with lucrative jobs to supplement their £100,000+ a year pensions when they took early retirement? Or did they think it wasn't cricket to attack the ISIL loonies while they were celebrating their success?
Why did we do nothing? Are we really trying to beat ISIL or not?
And now, looking at the map of the ISIL advance: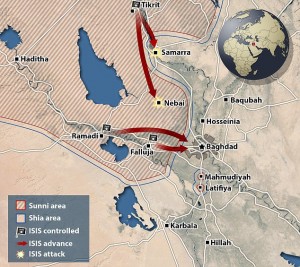 I suspect there is going to be a dramatic drop in prices in the Baghdad property market. Perhaps this would be a good buying opportunity? Perhaps not?
Meanwhile O'Bummer and Camoron tell us we're winning the fight against the *sl*mic State (which, of course, has nothing to do with *sl*m which is a religion of peace).
Looks to me like we're losing and we're losing because of our leaders' total incompetence.