In December 2015, 196 countries will get together in Paris to sign a global agreement on combatting the ludicrous myth of Anthropogenic (man-made) Global Warming (or Climate Change or whatever it's called this month).
I imagine most readers can guess what will be in this great agreement. For the West there will be ridiculous targets to reduce CO2 emissions, massive environmental tax rises for ordinary people, and hundreds of thousands will lose their jobs as high energy prices make our industries uncompetitive. Meanwhile China and India will continue to build hundreds of polluting coal-fired power stations and will take the jobs that the West is losing as the West commits economic suicide on the rickety altar of the false god of Man-Made Global Warming.
To soften us up for the new assault on our freedoms, pockets and jobs, we can expect the Greenie establishment to bombard us with scare story after scare story about how we're all doomed unless we "tackle Climate Change". Given that the Earth hasn't warmed up at all for the last 19 years, all these scare stories will be total bunkum. But that will not stop the BBC and Channel 4 and the Guardian plus other sanctimonious bien pensants all castigating us for supposedly destroying the planet due to our use of fossil fuels (coal, oil, gas etc)
As these scare stories are launched, I will as best as I can expose them for the blatant lies that they are.
A good one came out yesterday. Here's the headline from a newspaper article: After 10,000 years giant Antarctic ice-shelf will be gone by 2020, Nasa report says
And here's the sub-headline: New Nasa studies warn of "bad news for our planet" as looming crack threatens to shatter Larsen B ice-shelf into pieces
And we're given a nice photo of this Larsen B ice-shelf: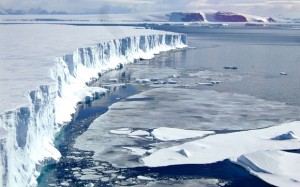 OMG! OMG! OMG! When this collapses, we're all going to die!
Or maybe not. After all, in 2002 the Larsen B ice-shelf virtually disappeared. Here's a quote from a scientific article written in 2002 "In the Southern Hemisphere summer of 2002, scientists monitoring daily satellite images of the Antarctic Peninsula watched in amazement as almost the entire Larsen B Ice Shelf splintered and collapsed in just over one month. They had never witnessed such a large area—3,250 square kilometers, or 1,250 square miles—disintegrate so rapidly"
And here's a satellite photo from back then: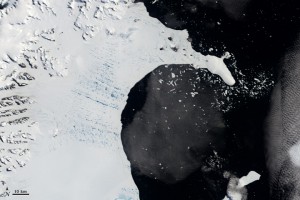 I think the big hole is where the Larsen B ice-shelf used to be.
Yet somehow, in spite of a large rise in CO2 in the atmosphere and in spite of supposed Global Warming, the Larsen B ice-shelf reformed very nicely indeed. Ooooh. That's odd. Maybe the Greenies could explain how a supposedly warming Earth managed to produce more ice? I thought heat melted ice. Perhaps everything I learnt about physics in school was wrong? Maybe I don't deserve my physics O'Level?
So, as we wait for the next "we're all doomed" Greenie scare, here's a graph suggesting that global temperatures have little or nothing to do with the level of CO2 emissions (the blue line is temperature and the green line CO2 emissions)
And here's a graph suggesting that global temperatures are pretty strongly linked to solar activity (the blue line is temperature, the red line is solar activity and the thick grey line is CO2 emissions)