So, the great Gordon Brown is standing down at the 2015 General Election. We're told this is because he wants to concentrate on his role as a UN representative for education and not because he's afraid he'll lose his seat to the SNP.
And as this supposed colossus retires to spend the millions he's amassed at our expense, droves of politicians are being interviewed by obsequious TV journalists about what a towering political giant Brown was. Our rulers and their media sycophants seem to have short memories.
When I returned to the UK in 2006, everyone was blethering on about Brown being the 'Iron Chancellor', the tough Scot who wouldn't waste a penny of taxpayers'money. So I wrote SQUANDERED How Gordon Brown is Wasting Over One Trillion Pounds of our Money to expose the lies and deceit used by Brown and his acolytes Ed Balls and Ed Miliband as they drove Britain into bankruptcy. I can't condense 65,000 words into just 500, but here are just a few of Brown's catastrophic decisions:
1. Overspending Although tax revenues were rising every year from 1997 to the 2008 crash, Brown spent more every year than was collected in tax
So, when the crash came and tax revenues collapsed our national debt doubled from £350bn to over £700bn
2. NHS Idiot Brown more than doubled NHS spending from £45bn to over £100bn. Yet when New Labour came to power in 1997, we had 200,000 hospital beds and 25,000 managers (8 beds per manager). By 2008, we had 140,000 hospital beds and 43,000 managers (3 beds per manager). And, of course, managers' salaries more than doubled. We also have around £300bn in overpriced PFI contracts that are now bankrupting many hospitals. And doctors were given massive pay increases while getting new contracts that meant they no longer had to do home visits
3. Educational disaster Brown increased spending on education from £38bn a year in 1997 to £73bn by 2008, yet during that time Britain constantly fell further down in the PISA educational rankings. Plus, let's not forget the £45bn PFI Building Schools for the Future programme that we'll be paying back for the next 20 years or so
4.Giving away our gold Hopefully everybody remembers how Brown sold off much of our gold when gold was at the lowest it had been for hundreds of years. Moreover, when other central banks want to sell gold, they do it surreptitiously through agents so as not to collapse the gold price and enrich speculators. Idiot Brown announced his sales in advance and the gold price fell to what those in gold trading call "the Brown Bottom" losing us billions but making those buying our gold at knock-down prices very rich indeed
5. Hiding real unemployment by allowing hundreds of thousands of healthy people to claim disability benefits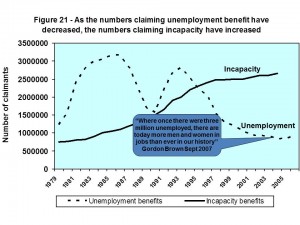 6. Massively increasing our taxes
7. Destroying one of the best private pension schemes in the world
8. Squeezing military spending so that many of the 453 who died in Afghanistan did so unnecessarily because there weren't sufficient helicopters and there were almost no armoured vehicles to protect them from IEDs
A colossus? No, an incompetent, economically-ignorant, financially-incontinent bully and buffoon who should be reviled for the massive damage he did to our country.