Here's a simple graph I've tried to put together. Unfortunately I only have figures for 1980, 2000, 2010 and 2014. So there's a 20-year jump, then a 10-year jump, then a 4-year jump.
But although this doesn't make a perfect graph, it does tell a story that affects us all.
I have graphed the percentage of households that take more in services and benefits  – the takers – than they contribute in taxes – the payers.
The % of households that are takers has shot up from about 43% in 1980 to around 60% today. (click to see more clearly)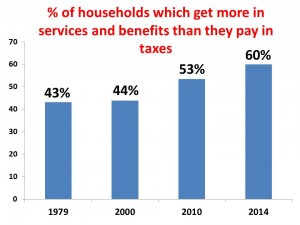 The implications? The takers clearly outnumber the payers. So, a majority of voters have an interest in voting for any party that will continue to give them more more more, as long as someone else is paying.
Latest estimates are that a household (I assume this is 2 adults and 2 children) must earn more than £35,000 a year before it becomes a payer. Our rulers tell us that immigration is good for Britain. But how many immigrant households earn more than £35,000 a year?
There's one other not so small point. The demographic group with the most children are, of course, adherents of the Religion of Peace. If we assume the average Religion of Peace household has four children, then that household would probably have to earn maybe £50,000 a year to move from being a taker to becoming a payer. How many Religion of Peace households earn more than £50,000 a year?
As almost two thirds of households are now takers, someone likened the general election to two wolves (takers) and a lamb (payer) voting on what to have for dinner.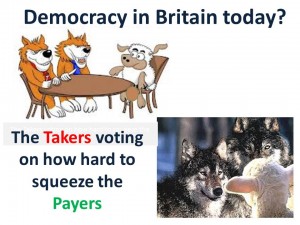 Fortunately for the payers, many of the takers are too fat, useless, lazy and pig-ignorant to get their lard-arses off their sofas to go out and vote. But as the percentage of takers continues to rise and the percentage of payers continues to fall, it becomes increasingly difficult for any financially-competent party to ever win power.
Remember – Special Offer!!! For one more day, the Kindle copy of GREED UNLIMITED is available for just £0.99. http://www.amazon.co.uk/GREED-UNLIMITED-Cameron-protect-squeezing-ebook/dp/B009EWPYT2/ref=pd_sim_kinc_1?ie=UTF8&refRID=1FQCFM19PK6VGAGHJH17
btw, I love some of comments people leave. Here's one from yesterday that added to my list of "How to ruin a once-great country in 10 easy steps". Enjoy:
11. Educate all children to believe that our history contains nothing good whatsoever. On the contrary, it is all racist, misogynist, homophobic genocidal imperialism. The only way to make amends is to be deeply ashamed, apologetic and neurotic about it. Plus of course to implement meaasures 1-10 above to show how profoundly sorry we are.