The British public – even the stupid ones who vote for Labour – are vaguely beginning to realise that allowing almost 10 million, mostly low-skilled and mostly M*sl*m people into the country since 1997 as part Blair's New Labour's attempt to rub our noses in multi-culturalism was not a great idea. And given the much higher birth rates of immigrants, projections of Britain's future population mix are truly frightening with ethnic British due to become a minority by 2056 (click to see more clearly)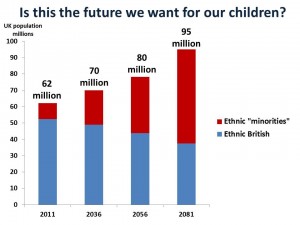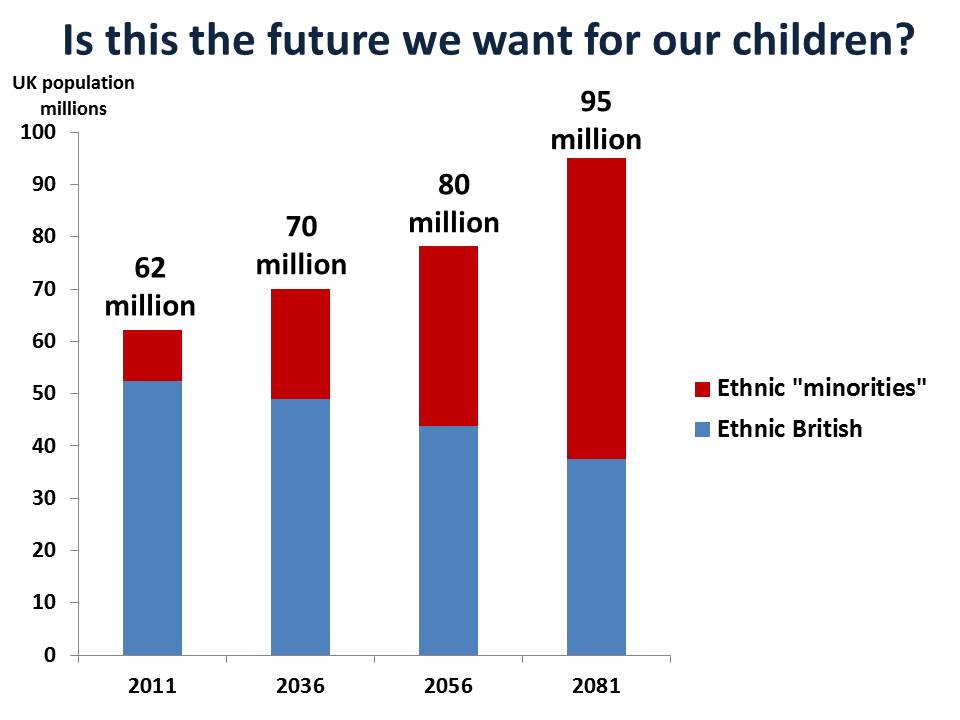 But actually the situation may be worse than this, because immigrants don't have to be anywhere near a majority to fully control our political system. With a two-party system like Britain's, there just have to be sufficient numbers of immigrants in a few key marginal constituencies (plus a bit of postal vote fraud which is part of the culture of some immigrant communities) to ensure that any party opposed to continued mass immigration can never win an election. By 2015 we'll almost be at that point. By 2020, we'll definitely be there.
After that, immigration will shoot up as those with power will have been put there by immigrant communities.
The future for Britain will be a war for control of what's left of the country's wealth between the immigrant-dominated, benefits-dependent, ghettoed cities and larger towns, many of which will become no-go areas for ethnic British (particularly white British girls) and the largely ethnic British countryside where white-flighters will watch with dismay as their country is over-run by by the detritus from every corrupt failed state in Africa, the Middle East and, of course Pakistan and Bangladesh.
This is probably something the pro-immigration Burkha Broadcasting Corporation and the (IMHO) politically-correct quislings like Jon Snow and Rageh Omaar at Channel 4 prefer not to mention.
I've seen the future and it doesn't look terribly appealing: