I don't expect we'll ever learn the truth about what's really happening in the Ukraine. What we do know is:
1. The Ukraine was run by a brutal, utterly corrupt kleptocrat sponsored by Russia
2. The EU tried to grab the Ukraine away from Russia by giving it an ultimatum – join the EU or join the Russian trading zone, but not both. Mistake 1 – annoy Russia
3. That led to the overthrow of the Russian puppet leader – apparently almost single-handedly by our great Baroness Ashton
4. The new government immediately started discriminating against the Russian minority in East Ukraine and trying to ban the Russian language. Mistake 2 – further annoy Russia. So Russia naturally supports a rebellion by the Russian minority
5. Launch a propaganda campaign in the press painting Russians as 'the enemy' and demonising Putin when actually most Russians are very much like us Mistake 3 – annoy Russia even more and insult Putin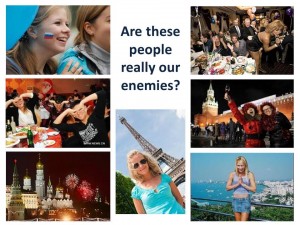 6. Having promised Russia that the Ukraine would not join NATO, suddenly Poroshenko is invited to the NATO summit and NATO starts making all sorts of noises about Ukraine joining NATO and even mentions conducting NATO military exercises in Ukraine. Mistake 4 – lie to Putin and threaten to shove NATO tanks on Russia's borders
6. All the time, idiots Cameron and Obama blether on about how Russia is a threat to world peace, when Russia should be our ally against the real threat – *sl*m. Mistake 5 – fail to understand that we and Russia share the same enemy.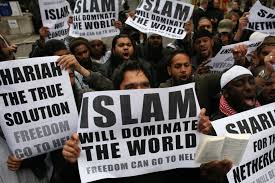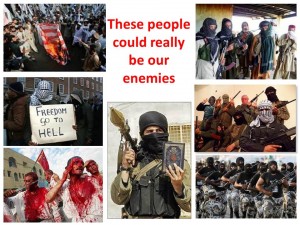 There's an easy solution to all this chaos – invite Russia to join NATO and then both fight against the real threat to world peace and our civilisation – the Religion of Peace.
I rest my case