Surely, what happened two days ago tells us all we need to know about our abject surrender of our sovereignty to the EU, which of course is run by mighty Germany.
A German leader marches into our so-called "Parliament" and tells our elected leaders, in German, that she will not tolerate Britain making any significant changes in the way the EU is run and in the way the EU runs Britain and in the way Germany runs the EU. And what can our leaders do about this? Nothing. (click on picture to see more clearly)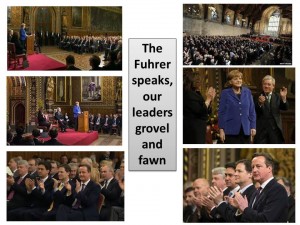 I'm not accusing Merkel of being like Hitler as the Greeks have done. That would be childish. Anyway, she hasn't tried to seize our country. Our leaders have given it away. So I am accusing our leaders of being arrogant, greedy, self-serving, thieving, cowardly, lying quislings who have sold our country down the river.
We may have won the Battle of Britain, but we've definitely lost the Battle for Britain.
Vote UKIP at every opportunity.
Democracy for the Ukraine! But not for Britain
It's interesting to note that, at the same time as the EU is trying to start a massive international crisis by demanding democracy and freedom for the Ukraine, the EU is also taking away our freedom and democracy and handing ever more power to a group of unelected, utterly corrupt, kelptocratic komissars. Odd that.
(I need to sell some more copies of GREED UNLIMITED – I've only sold a couple of hundred, which is pathetic. Why not buy a copy and send it to your greedy, lying, thieving, treacherous MP with a letter demanding they represent British interests instead of selling out to bankers and to our corrupt, wasteful, undemocratic EU masters?)