I'm not sure if I've already used this. It's a song reportedly sung at a McKinsey consultants' Christmas party (to the tune of Hark The Herald Angels Sing) (click on picture to see more clearly)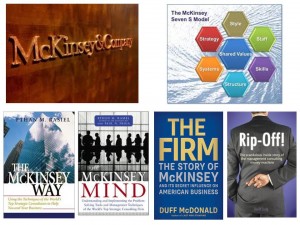 If you aim to get the best result
And maximum performance you want to see
Then you really should consult
A Management Consultancy
McKinsey management consultants are we
We take all our clients' money
We can earn many a million
Because our clients have no vision. (Repeat last two lines as chorus)
If Process Redesign is what you will
And you think it'll make a success of all you do
Then rely on us to send you a bill
While we redesign your processes for you.
We are from McKinsey – young, bright and flash
We take mountains of our clients' cash
We win lots of new clients rich and fine
When we go round flogging Process Redesign (Repeat last two lines as chorus)
We've got handouts and we've got flip charts
And dazzling PowerPoint presentations
And we blow clients away
With our brilliant explanations.
We are McKinsey's little lackeys
Telling clients they're in trouble is just one of our strategies
Our language is smart and makes our clients ill-at-ease
It's what we call 'Consultantese'. (Repeat last two lines as chorus)
The culture at ……. is a real dead weight
But we crush resistance before it grows
We're used to organisations in a dreadful state
Because, of course, we are Pros!
We are McKinsey's real hard core
We are the ones who'll win the war
Now we're going to party and have fun because
Cheers! We've just got our bonuses from Santa Claus. (Repeat last two lines as chorus)
*I have reported this song as best as I can, considering the circumstances in which I came across it