As yet another lunatic committed to waging Holy War against the West and destroying the world takes over in Iran, how worried should we be about the glorious Iranian, infidel-bashing, God-fearing, merciless armed forces' capabilities?
An airborne early warning and control system (AWACS) is an airborne radar system designed to detect aircraft, ships and vehicles at long ranges and control and command the battle space in an air engagement by directing fighter and attack aircraft strikes.
Here's a U.S. AWACS: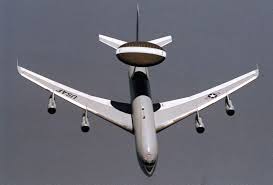 As you'll see, it's up in the air flying as planes are meant to do.
This is allegedly a photo of Iran's only AWACS plane: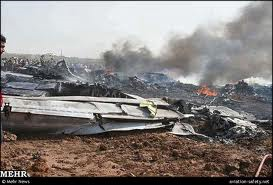 All seven crewmembers were killed in the crash, which reportedly was initiated when the IL-76 collided with a HESA Saeqeh fighter jet escort. Here's film of the crash http://www.youtube.com/watch?v=MOnsIGcZS-M&list=PLC2B64B563E78B7D9 The footage was apparently shot from the back of a refueling aircraft.
The incident occurred about 4 years ago during a flypast at an annual military parade, which celebrated former President Ahmidinejad's scheduled address to the United Nations General Assembly the following day. Fittingly, the Russian-built jet crashed near the tomb of Ayatollah Khomeni, so he'd have got a good view of the Iranians' cock-up.
The downed AWACS plane was actually built for Saddam Hussein in the 1970s. Iraq flew it to Iran for safekeeping during the second Gulf War, and Iran kept it, possibly getting some radar upgrade help from Russia before putting it into service. It was Iran's only AWACS-capable aircraft at the time.
Never mind, the crew will be deliriously happy as they're now up in Paradise with their virgins. And perhaps our Iranian friends will have better luck with their next AWACS plane. Though, don't expect to see it taking part in any more flypasts.