If we look at the countries that have won the most Nobel prizes, it's perhaps noticeable that there is not a single Islamic country in the Top Ten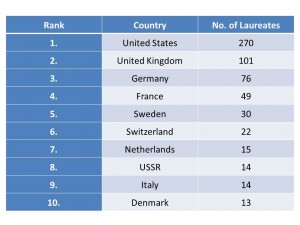 This is really strange. After all, the population of Pakistan is 152 million, Egypt is 74 million and wonderful Iran is 69 million. Yet Sweden with just 9 million and Denmark with a mere 5 million people, have each won more Nobel prizes than the 295 million people in Pakistan, Egypt and Iran put together.
If we look back over time, again there don't seem to be any Muslim countries with a lot of Nobel Prize winners:
So, there you have it, absolute proof that the members of the Nobel Prize committee are anti-Islamic. After all, what other explanation could there be for Muslim countries failing to win a significant number of Nobel Prizes?
But where can we find something in which Islamic countries really excel? Something where they are truly world-beaters? Something they can be proud of? Here's what I found – a list of the most dangerous, violent awful countries in the world:
http://www.aneki.com/dangerous.html Five of the most dangerous countries in the world are Islamic and a further one, Israel, is on the list because of the activities of a certain group of people who tend not to be Jewish. What can this all mean? I have no idea except to suggest that the members of the Nobel Prize committee are anti-Islamic and the people who compile lists at www.aneki.com are similarly biased.