Wednesday/Thursday blog
Our hearts go out to the Empress of Scotland
We are truly living through troubled times. One of the world's wokest politicians – wee Nickie Sturgeon, someone who believes that a man in a wig with a full meat and two veg who rapes women is a woman – has decided to call it a day and has resigned. But as the (IMHO) pulsating pustule of bitterness and bile Sturgeon rides off the British political stage, let us remember her many successes and all she has done for the people of Scotland:
Drug overdose deaths
Deaths per capita from drug overdoses in Scotland are almost four times as high as in any other European country:
Well done Wee Nickie, that's something to be proud of.
How about general health?
Scotland has the lowest life expectancy of all the UK's countries:
https://spice-spotlight.scot/2020/01/22/stalling-and-declining-life-expectancy-in-scotland/
How about education?
Scotland used to have an education system that was envied around the world. Recently Scotland withdrew from two international comparisons of educational performance supposedly to save money. But Scotland did remain in the OECD's PISA (Programme for International Student Assessment) study. In the OECD's PISA study of around 500,000 pupils in participating countries, Scotland's performance in Maths got worse: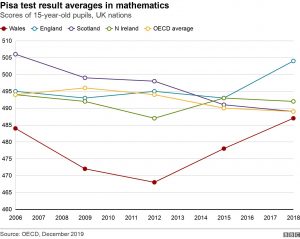 In Science, it got worse:
Though there was some improvement in reading skills:
Laughably, Scotland's education secretary said: "Pisa doesn't cover everything but today corroborates what we see elsewhere – improving schools and a closing of the attainment gap. That is down to great teaching, well-supported pupils and the investment we have made. Much still to do, but well done everyone on a good result."
I could go on detailing Wee Nickie's many achievements, but you probably get the picture by now.
And it's not as if Scotland is some complex sprawling, difficult-to-govern empire. The population of Scotland is only just over half the population of Greater London. Yet Wee Nickie and her SNP chums, with their eye-bulging obsession with independence, have managed to screw up just about every aspect of life in their sad little country.
Where next for the pulsating pustule of bile?
You might think that after 8 years of abject failure nobody would touch Wee Nickie with a bargepole. How wrong you'd be. I expect her to be quickly offered a lucrative job with a massive salary and almost unlimited expenses at one of our many utterly corrupt and incompetent international organisations. For example, the Chinese-run World Health Organisation (WHO) is in the process of coercing countries into giving it legal powers to over-ride national governments on issues like travel, lockdowns and vaccinations next time the WHO decides there is a 'health emergency'. Someone like Empress Nickie, a pound-shop dictator who imposed the UK's harshest Chinese plague lockdowns, would be an ideal candidate to help enforce this new one-world government.
Or there's the even more corrupt and incompetent United Nations. Maybe after her many years trying to disunite the United Kingdom, the (IMHO) ghastly Scottish empress will be offered some kind of well-rewarded sinecure there? Or there are many other similar international organisations where Wee Nickie could find a comfortable, highly-paid, highly-expensed nest.
Or Wee Nickie could 'do a Miliband' and get half a million quid a year plus generous first-class travel heading some international charity?
Readers of my generation might fondly remember Gerry Anderson's Thunderbirds about International Rescue: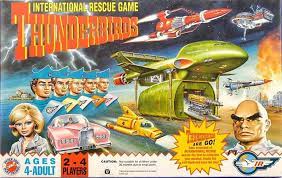 And that's the name of the great 'charity' that Miliband is supposedly running.
No doubt some equally ludicrous 'executive' job like that could be found for Scotland's greatest living politician.
In fact, the opportunities for someone like the former Empress of Scotland, with a litany of failures to her name, are almost unlimited.
Here's a Scot who actually does contribute something
Here's another absolute scorcher from Neil Oliver: