Friday/weekend blog
Blair disappears 100,000 asylum-seekers
On 19 December 2022, I wrote a blog in which I explained how the (IMHO) reptilian liar Blair managed to make magically disappear over 100,000 asylum seekers.
When Blair was criticised for the large number of asylum applications over the five years from 1997 (when New Labour were first elected) to 2002. He promised to cut the number of asylum applications. By 2005, honest Tony Blair was able to boast: "Asylum applications have fallen from over 8,000 a month to just over 2,000. The next set of statistics will show that monthly applications are back to their lowest level since March 1997".
The chart below shows how trustworthy Tony was able to deliver this tremendous achievement. The dotted line is the number of asylum applications. The solid line is the number of UK citizenships granted: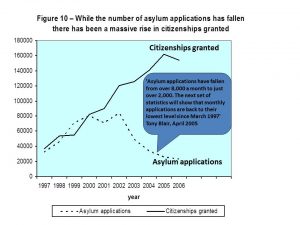 What seems to have happened is that potential asylum-seekers were told that if they didn't apply for asylum but instead sought UK citizenship, they would be granted citizenship no questions asked. British passports were being showered on illegals like confetti.
I produced this chart for my 2008 book Squandered: How Gordon Brown is wasting over one trillion pounds of our money:
At the time this complete fraud on the British people, like many other New Labour frauds I exposed in my book, was not mentioned by any of the mainstream media. But you have to remember, this was a time when Blair's press people had almost complete control over the media. Any political journalist writing critical stories would be excluded from supposed 'scoops' and so would be out of a job. Whereas those writing positive stories on the Blair/Brown government would be given exclusive stories making it look like they had deep inside knowledge of what was going on in government. As I'm sure you know, the TV comedy series 'The Thick of It' was based on the Blair/Campbell government.
In my 19 December blog I warned that the (IMHO) spineless, lying, UK-loathing coward, Rishi Sunak, would 'do a Blair'.
Sunak 'does a Blair'
Now, 20 years later, our latest globalist leader Sunak is faced with a similar problem to Blair. There are anywhere between 150,000 and 166,000 asylum seekers currently in the UK waiting decisions on their claims. But Rishi has a solution – just like Blair he'll let them all stay in the UK.
Asylum seekers will be given the right to live in the UK without having face-to-face interviews to check their claims under government plans to reduce the backlog of cases. More than 12,000 migrants from five countries with the highest asylum success rates will have their applications processed on paper, with the "vast majority" given the green light to stay in the UK without an interview.
On Thursday, Home Office officials will start contacting the asylum seekers, from Afghanistan, Syria, Libya, Eritrea and Yemen, and give them a 20-day deadline to fill in and return fast-track claims forms.
Am I the only person who can see the problem? Most of these economic migrants pretending to be asylum seekers will have destroyed their identification documents before coming to Britain. So we're going to get tens of thousands of Pakistanis and Nigerians and Congolese and Bangladeshis and many many others all suddenly claiming to be from one of these blighted, violent, excrement-covered hell-holes –  Afghanistan, Syria, Libya, Eritrea and Yemen. And as none of these good people will be interviewed to see if they are lying or not, they will automatically be given leave to remain in Britain.
Moreover, what the Government doesn't mention is that anyone coming to Britain from these five countries or anywhere else will actually have come from safe France after crossing several other equally safe European countries. So, none of them should be allowed to stay in the UK. After all, according to the Dublin Convention an asylum seeker can only have his or her application considered in one of the Dublin countries. The main rule is that an application will be processed by the first Dublin country the asylum seeker comes to. Countries signed up to the Dublin Convention which include all the countries in the EU, plus Iceland, Switzerland, Norway and Liechtenstein.
Laughably, the Daily Express announced Sunak great plan with the headline: "PM to unleash massive crackdown on asylum backlog as UK hit with staggering £7m-a-day bill"
https://www.express.co.uk/news/politics/1738313/migrant-crisis-rishi-sunak-asylum-seeker-crackdown-braverman-uk-immigration
This is not a crackdown. It's a free-for-all amnesty which will encourage millions more pieces of uneducated, unemployable, deeply criminal, West-hating, benefits-scrounging Third-world garbage to head for Benefits Britain.
The sooner we get rid of this useless, UK-hating Tory government of frauds, liars, cowards, knaves and traitors, the better.