Tuesday/Wednesday blog
Making a molehill look like a mountain?
There was a well-known book published in 1954 titled HOW TO LIE WITH STATISTICS:
I haven't read it. But apparently one of the warnings given in the book was: Always Look at the Axes on a Chart
Adjusting the axes of a graph to make a point is a classic technique in manipulating charts. As a first principle, the y-axis on a bar chart should always start at 0. If not, it's easy to prove an argument by manipulating the range, by, for example, turning minor increases into massive changes.
Here's an illustration of how a y-axis that uses a non-zero starting point can completely change the impression we get from a simple chart. The first graph (on your left) suggests interest rates are rising dramatically. But, when plotted in the full context of the data (on your right), the rise in interest rates does not look concerning at all:
The left-hand graph makes an apparent mountain of what is actually a rather insignificant molehill.
How to terrify the statistically-challenged
This same process has been repeatedly and successfully used with supposedly catastrophic global warming
Here's the kind of chart we're usually shown to terrify us about the impending Global Warmageddon:
For the moment we'll leave aside the question of whether there can actually be such a thing as average global temperatures. After all, there were limited temperatures measurements in many areas of the planet up till satellites were used in the mid-1970s. Since then there have been (I think) three generations of satellites all giving slightly different results. Moreover, satellites don't actually measure temperature directly. According the that (not always reliable) fount of all knowledge – Wikipedia – satellites measure radiances in various wavelength bands, which must then be mathematically inverted to obtain indirect inferences of temperature. (Whatever that means)
But let's assume the chart above is a reliable measure of global temperatures (which it most definitely is not). It looks pretty frightening. Global temperatures seem to be shooting up, threatening us all with imminent disaster – heatwaves, fires, extreme weather, collapse of agriculture, starvation, extinction of mankind (and womankind and transkind and all the other 57 or so genders). But if you look a bit more closely at the y-axis, you'll see it measures the global temperature deviation from the 1951-1980 average in units of 0.5ºC. The chart doesn't show actual temperatures.
Moreover, the apparently horrifying rise in global temperatures is actually only around 1ºC in 140 years from 1880 to 2020 or 0.7ºC per century.
Here's what the same chart of global temperatures would look like if the y-axis started at zero:
Now that doesn't look too frightening at all. And that's why the climate-catastrophists never dare show us temperature charts where the y-axis starts at zero. Instead, we get highly manipulative presentations of data which rely on our ignorance in order to frighten us into submission to the ever-increasing coercive restrictions which are being imposed on us to supposedly save the planet
As someone much cleverer than I could ever be said: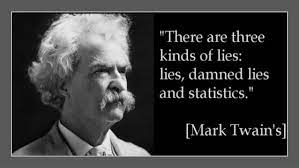 This sporting life
To finish off, two short sporting stories.
Firstly, we're now informed that the Scottish Cricket Board members have all resigned after a new report accused them of that old favourite – institutional racism. I'm confused. Firstly, because I didn't know anyone in Scotland actually played cricket. I thought cricket was a game for the hated English. And secondly, the Scottish population is 96% white. So it must be difficult to find any of our coloured friends to be racist against.
Talking of supposed 'racism', here's the English women's football team currently competing in the Euros:
Apparently some BBC reporter has been moaning and blubbing about the fact that they're all white. I guess that's more 'institutional racism'?
Here's another nice sporting photo. This one features the US, Canadian and UK's men's relay teams who came first, second and third at this week's Oregon world athletics championships:
But we didn't hear the BBC complaining about the skin colour of these twelve athletes. I wonder why not?