Monday/Tuesday blog
Wonderful news from our police bosses
Hopefully, you'll have been as excited as I was to learn about our police bosses' latest brilliant plan – the Police Race Action Plan.
Our police proudly announced their great idea a few days ago:
The Police Race Action Plan has been developed jointly by the National Police Chiefs' Council (NPCC) and the College of Policing with input from stakeholders, including the National Black Police Association, the Independent Scrutiny and Oversight Board Chair, and the Association of Police and Crime Commissioners.
It aims to address:
disparities affecting Black people

lower levels of trust and confidence in the police among some Black people
Here's a link to the Action Plan:
https://assets.college.police.uk/s3fs-public/Police-Race-Action-Plan.pdf
I suspect the Police Race Action Plan will cost us taxpayers millions of pounds and use up tens of thousands of policing hours.
Policing everything except crime?
As our police launch their latest navel-gazing, own-arsehole-admiring initiative, they seem to have abandoned the old-fashioned idea that the job of the police might be to prevent crime and then solve crime when it does happen.
Violent crime, especially knife crime, is rising each year:
(left-click on image, then left-click again to see more clearly)
Moreover, in the five years up to the start of Xi PingPong's lab-leaked Wuhan Chinese plague, the UK police's rate of solving crime fell from a pathetic 15.5% in 2014/15 to and even more unbelievably derisory 7.8% by 2018/9: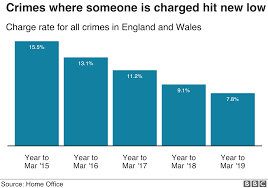 Though, of course, our police still have plenty of time and energy to display their commitment to those three modern gods – diversity, inclusion and equity:
To do TikTok videos of their dance skills:
And to kneel in subservience to BLM rioters and thugs: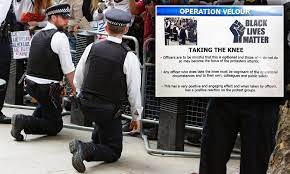 Here's (I believe) one of the main sponsors of the terrific Police Race Action Plan – Chief Constable Sir David Thompson: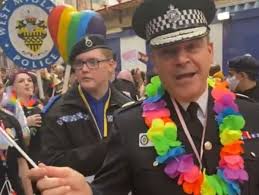 Meanwhile, the police no longer bother responding to boring stuff like burglaries, sexual assaults, domestic violence, car thefts, drug-dealing, antisocial behaviour etc etc. Though if you call your neighbour a "fat idiot" or use the wrong pronoun for someone or suggest certain individuals might be more at home in some other country, the police will be on you like a ton of bricks.
It's a pity the police didn't name their new idea – "Constabulary Race Action Plan" – as the acronym would have better represented the value of this nonsense for ordinary taxpayers.
Khan's blood-soaked streets of London
The city with the worst rise in crime, especially knife crime, is of course our vibrant, diverse, multicultural paradise – London.
Here's a video I made three years ago warning what would happen if Londoners re-elected the (IMHO) useless, self-serving, incompetent Mayor Khan. Enjoy: