Wednesday/ Thursday blog
First the 'good news'
You could never accuse me of being a pessimist as here's some wonderful news from our (IMHO) increasingly unhinged police.
Seven police forces in England and Wales have decided to allow criminal suspects to be recorded on their computer systems as non-binary, meaning they consider themselves neither male nor female.
Two other forces, Norfolk and Suffolk constabularies, allow suspects to describe their gender as "unknown and unspecified" because officers are "aware there are a growing number of terms associated with gender and sexuality".
A spokesman for both forces said that they recognise there are 67 different genders people can present as.
It's lucky that there is so little crime that our police have time and energy to spend on such total nonsense.
It's worse than you imagined
In my previous blog, I included a chart showing police conviction rates falling from 15.5% in 2014/15 to a pathetic 7.8% in 2018/19: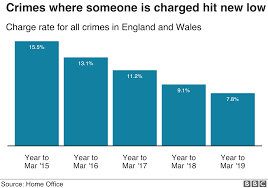 Since then I've managed to find a chart showing crime clearance rates from 1970 to 2021
(left-click on charts, then left-click again to see more clearly)
I hardly need to comment on this utter failure by our worthless police except to say that, if you're a criminal, you'd have to be pretty stupid and useless at your criminality to be caught by our pointless police.
The police retreat?
Perhaps even more shocking than this collapse in crime clearance rates is the following chart. This shows that the number of police stations in England and Wales has plunged from 2,729 in 1970 to a miserable 600 by 2020:
It seems our politicians and police blether on about supposed 'community policing' while our police retreat from our communities to hide in ever fewer centralised police stations as far away as possible from the communities they are paid to police.
To cheer us up
A dog-owner's neighbours apparently started complaining about the noise from his home. So he set up a camera to record what went on while he was out at work.
I wonder if the dog is reading the sheet music as the piece being played sounds a bit like something from American composer Philip Glass. Or maybe the dog is just improvising?
Enjoy: