Wednesday – Thursday blog
I watch about an hour of daytime TV a day when I'm in the gym. Most of the ads seem to be for cheap funerals and fraudulent life insurance or else use multi-millionaire actors or former BBC journalists (probably with huge inflation-protected pensions paid for by us) to lecture us on why we should give our money to people in the world's worst (usually religion of peace) hell-holes like the Yemen, Afcrapistan or Sudan. But I've also seen quite a few ads for charities working mainly in religion-of-peace cess-pit countries to rescue donkeys from appalling mistreatment. So I decided to do a quick check on the main donkey-rescue charities.
The Donkey Sanctuary
The mission statement for The Donkey Sanctuary is: "Working towards a world where donkeys and mules live free from suffering, and their contribution to humanity is fully valued"
The charity has a pretty impressive income of around £43m a year. I don't know how much it costs to look after a donkey for a year, but let's pluck a figure of £2,000 out of the air. If you then knock say 20% off the Donkey Sanctuary's £43m a year for administration and fundraising, that means the charity could potentially be caring for more than 17,000 donkeys a year.
The Donkey Sanctuary doesn't tell us how much their big boss gets paid. The charity only gives the minimum information required by the Charity Commission by informing us that the highest-paid employee gets between £130,000 and £140,000 a year.
Brookes
The mission statement for Brooke is: "Brooke is an international charity that protects and improves the lives of horses, donkeys and mules which give people in the developing world the opportunity to work their way out of poverty".
Its income is over £21m a year and the CEO remuneration is somewhere between £110,000 and £120,000.
Society for Protection of Animals Abroad (Spana)
Spana appears to work with all kinds of animals, not just donkeys and horses: "To prevent unnecessary suffering to animals and neglect of their bodily needs by all lawful means and, in particular, by: 1. Providing treatment in hospitals and otherwise for sick and injured animals 2. Encouraging and promoting education in the humane treatment of animals any relevant environmental issues 3. Assisting in the enforcement of such laws as may from time to time be applicable".
But Spana does feature donkeys quite prominently in its logo:
An oddity with Spana is that its income is quite modest- about £10m a year. Yet the highest-paid executive gets remuneration of more than £150,000 a year and there are two employees on £110,000 to £120,000. Quite why Spana's bigwigs seem to be remunerated so much more generously than those at the £43m-a-year Donkey Sanctuary and at the £21m-a-year Brooke might be a question which the generous people donating to the £10m-a-year Spana could ask?
Spot the difference?
In 2015 I noticed how my elderly mother with dementia was being constantly plagued by supposed 'charities' all desperate to guilt-bludgeon her into donating ever more of her modest pension to them. The problem was that, once she had donated to a couple of charities, her name and contact details went onto a 'suckers list' that those charities sold on to other charities without letting my mother know how her name and details were being exploited.
Seeing how my ever more confused mother was being harassed by charities, I did a little research and then wrote a book – THE GREAT CHARITY SCANDAL
One of the many issues I brought up in THE GREAT CHARITY SCANDAL was that there were loads of well-known supposed 'charities' all doing pretty much the same thing. The example I used in the book was poverty reduction: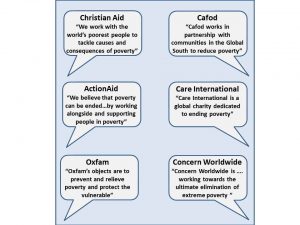 (left-click on image and then left-click again to see more clearly)
But given that we have over 200,000 registered charities in the UK, you could pick almost any issue, any type of animal, any disease or any type of misfortune and you'd probably find several charities all doing pretty much the same thing and all claiming that they deserve our money.
Many of these 200,000+ registered charities may be quite small. But there are also an awful lot taking in millions of pounds a year each and almost all will have highly-paid executives with loads of subservient minions and nice offices. Moreover, the bosses at the larger international charities, such as those in the above image, probably also have generous expense accounts so they can tour the world in great comfort visiting their many international operations.
In THE GREAT CHARITY SCANDAL I give the example of how two prostate cancer charities – Prostate Cancer UK and Prostate Action – seem to have realised that it was ridiculous to have two charities for just this one disease. So they combined and massively reduced their administration and fundraising costs:
Maybe the donkey/animal charities mentioned above should also merge? This would allow them to get rid of a few well-remunerated bosses, some expensive offices and loads of other administrative and fundraising costs. Even the Guardian newspaper – normally an enthusiastic cheerleader for public-sector and charity non-jobs – has suggested that there should be "many more collaborations and full mergers between charities".
But, of course, I doubt the bigwigs on over £100,000-a-year each would be particularly enthusiastic about merging with other charities, so that more donors' money could actually be used for charitable purposes rather than just enriching the lucky few, if this would mean them losing their important, more than comfortable sinecures and their chances of a few gongs, a knighthood or even a lucrative seat in the Lords.
A few years ago I considered writing a book about the UK titled "PARADISE FOR PARASITES". This was partly inspired by my research into Britain's massive, bloated, self-serving, money-grabbing £80 billion-a-year charity industry.