Monday/Tuesday blog
Today's blog may seem a bit esoteric. But it does yet again and again and again confirm two quite important issues:
Our media will invent whatever lies they can dream up to pretend that we're facing a terrifying, humanity-destroying climate crisis
Our media know that many people (and all young people) are so ignorant, badly-educated and even brainwashed that they will believe the media's climate-catastrophist lies, however blatant and logically improbable those lies actually are
Lying Sky News's daily pack of lies?
Several days a week, I force myself to watch the first few minutes of Sky News's Daily Climate Show at 18.30 every weekday evening before I turn it off in fury at the programme's regular vomit of climate catastrophist lies. This is, of course, Sky News (UK) which adores the ghastly Greta 'Chucky' Doomberg and not Sky News (Australia) which (as I have shown many times on my blog) knows that crazy Greta's climate catastrophist banshee howling is a load of scientifically-illiterate nonsense.
Sky News (UK) is apparently very proud of its Daily Climate Show as it constantly boasts that it is "the only daily climate show on UK television" or something like that.
The 'hundred millionths of a degree' hogwash
In the background of the Sky News Daily Climate Show studio is a large wall display showing things like where our energy is coming from that day (renewables vs fossil fuels vs nuclear), the supposed rise in the Earth's temperature since 1880 (pre-industrial times), the time left till the Earth's temperature hits 1.5°C above pre-industrial levels and the amount of CO2 being released into the atmosphere:
I'd like you to look at the second line of information – the supposed increase in the Earth's average temperature in the 141 years since 1880. As you'll see, this number runs to 9 decimal places. I'm no mathematical genius, but if I've got my decimal places right, this means Sky News (UK) is claiming they can measure the Earth's temperature to hundred millionths of a degree.
Quadruple bollox?
This claim by Sky News that they can measure the Earth's temperature change since 1880 to hundred millionths of a degree is complete and utter balderdash for at least four reasons:
Reason 1 – Such measurement is impossible
As far as I know (and I may be wrong) there is no instrument yet invented by mankind that can measure temperatures to a level of hundred millionths of a degree. In fact, I believe temperatures cannot even be measured to a millionth of a degree or a hundred thousandth of a degree or even a ten thousandth of a degree. So for Sky News (UK) to display the Earth's supposed temperature rise since 1880 to hundred millionths of a degree is deliberately-misleading, lying drivel.
Reason 2 – We've no idea what the Earth's temperature was in 1880
Here's a map of the world showing where temperatures were being measured from 1881 to 1920: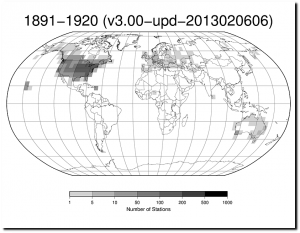 (the shaded areas show where temperatures were being measured)
As you'll see, there was extensive measurement in the U.S., parts of Europe and in Australia. There was little to no temperature measurement in South America, Africa and much of Asia and none at the North or South Poles.
Even by 1978, just after the first temperature-measuring satellites were launched, there was still limited coverage  of temperature measurement.
So we actually have no idea what the Earth's temperature was in 1880. All we have are computer models of what the temperature might have been based on loads of assumptions and extrapolating the data from the few places where temperatures were measured. As for the idea that we knew to the nearest hundred millionth of a degree what the 1880 pre-industrial temperature was – just complete garbage. In fact, to call this garbage would be an insult to garbage.
Reason 3 – You can't trust the satellites
The whole issue of measuring the Earth's temperature was supposed to be solved in the 1970s when the first of three generations of temperature-measuring satellites was launched. But there were a few problems. For example, each of the three generations of satellites gave slightly different results. Moreover, satellites were found to give less accurate measurements of temperatures than ground-based thermometers. If you're interested you can Google the reasons why satellites are so inaccurate. These include things like orbital drag, problems with atmospheric water vapour and the fact that satellites don't actually measure temperatures directly.
Here's the result from one study comparing the accuracy of satellite versus ground-based temperature measurement: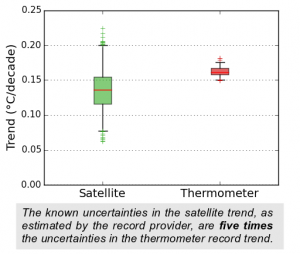 As you'll see, the level of uncertainty for satellites was about 0.035°C per decade compared to 0.007°C for ground-based thermometers. But you'll also see that temperatures were only being measured to a hundredth of a degree with the level of uncertainty estimates to some thousandths of a degree. So we can reliably assume that Sky News pulled their 9-decimal-places figures (hundred millionths of a degree) from somewhere where the sun doesn't shine.
Moreover, if you Google the astonishingly primitive methods still used for measuring water temperatures of the two thirds of the planet's surface covered by water, you'd struggle to believe that temperatures can even be measured to a tenth of a degree. But that's another story for another day.
Reason 4 – Can the Earth ever have an 'average temperature'?
Land and water temperatures constantly change every minute of every day and night during every season at every location. So at what point can the supposed climatologists claim they have an accurate measurement of the Earth's temperature? All they have is a calculated temperature based just as much on assumptions and complex computer modelling as on actual temperatures measures. And as with all computer models – GIGO (Garbage In Garbage Out).
You can fool all the snowflakes all the time
The game that Sky News is playing is to have a background display which supposedly indicates that the Earth's temperature is relentlessly increasing at a devastating rate. Of course, the Earth's temperature is never stable:
there was probably warming in the 1920s and 1930s when the 'experts' warned us that the glaciers and polar ice would melt and rising sea levels would submerge coastal cities:
then there was probably some cooling in the 1960s and 1970s when the 'experts' warned us that a new Ice Age was imminent: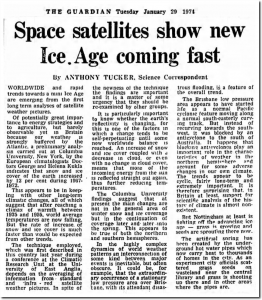 then there was probably some warming in the 1980s and 1990s when the Global Warming scam really took off: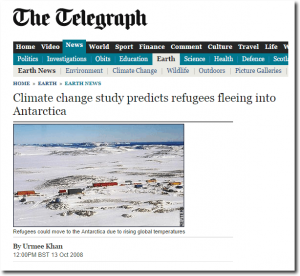 that was followed by 'the pause' between 2002 and 2014:
But since the 1990s the change in temperatures has been so negligible that Sky News have had to conjure up a totally fictitious figure of temperatures to hundred millionths of a degree (9 decimal places) to supposedly prove warming is happening.
But who cares if Sky News are (IMHO) lying and lying and lying? Sky News have (IMHO) realised that they can get away with their lies because they know they can fool all the scientifically-ignorant, social inadequates looking for a cause to make themselves feel important and morally-superior to the rest of us and, of course, all the woke, millennial snowflakes all of the time.
And now for someone who tells the truth
Here's the advertising van I'll have driving round Manchester for 7 hours a day on Monday and Tuesday this week during the Tory party conference: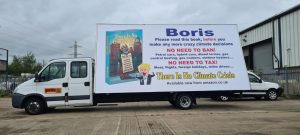 (left-click on image, then left-click again to see more clearly)
As we are deluged by a tsunami of media and politicians' lies about the Earth's climate in the weeks leading up to Boris's big Glasgow hot-air, woke, greeny climate gabfest in November, at least one person – yours truly, David Craig – will be telling the truth: THERE IS NO CLIMATE CRISIS!!!!!!!!!