Friday/weekend blog
Hooray for Merck! Hooray for our pharma companies!
You're probably aware that the US pharma company, Merck, has just cut short their clinical trials of a new antiviral wonder drug, Molnupiravir, to treat the Wuhan Chinese plague and has requested emergency approval from the US FDA (Food and Drug Administration). The reason that the trials were halted and approval sought was that Molnupiravir has proved so successful at treating Dr Frankenstein Fauci's Chinese plague that Merck wanted to get the drug out and in use saving lives as fast as possible.
Although we are now in October, Merck already signed a deal with the US Government back in June for $1.2bn for 1,700,000 courses of Molnupiravir. So Merck had quite a lot of cash riding on Molnupiravir's success. Analysts believe that Merck could earn over $7bn from Molnupiravir and that it could be one of the most lucrative drugs ever produced (apart from heroine and cocaine, of course).
Other pharma companies are believed to be well advanced in their research to develop similar treatments for the Xi Pingpong plague accidentally released from a Wuhan Institute of Virology programme to develop biological weapons.
What about Ivermectin?
As always when there is good news, there will be cynics who question whether things are really what we are told. These cynics have highlighted the fact that Merck already produce an antiviral, Ivermectin, and have claimed that Ivermectin is an effective treatment for the WuFlu if given early on.
Cynics have also noted that Ivermectin is out of patent and only costs around $1 to $2 for a course of treatment whereas Molnupiravir is supposedly a new drug and is therefore protected by patent and costs about $700 for a course of treatment.
Here are (I believe) the chemical formulas for the two antivirals:
Molnupiravir C13H19N3O7
Ivermectin C47H72O14
I haven't studied chemistry so I cannot comment on whether these two drugs are substantially different. But cynics might be tempted to claim that with Molnupiravir, Merck have merely fiddled around with Ivermectin to produce something that was rather similar but yet sufficiently different to justify Molnupiravir being classed as a new (and therefore patentable and much more profitable) medicine: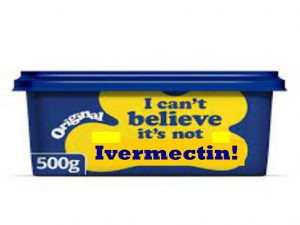 It's just a horse dewormer!
A strange thing about Ivermectin is that there has been a massive media campaign to discredit Ivermectin as a possible treatment for the Chinese Covid-19 plague. The FDA informs us that "Certain animal formulations of ivermectin such as pour-on, injectable, paste, and "drench," are approved in the U.S. to treat or prevent parasites in animals". And there have been well-publicised stories of some Americans taking veterinary Ivermectin and being seriously ill or even dying. What these shock, horror stories tend not to mention is that Ivermectin is an approved drug for humans: "Ivermectin is approved for human use to treat infections caused by some parasitic worms and head lice and skin conditions like rosacea". Moreover, when shrieking about the dangers of taking Ivermectin, the media tend to not mention that over 3.7 billion doses have been safely administered to humans over the last 40 or so years.
Don't mention India
There is one possibly relevant story that tends to be overlooked by the media – what has happened in the Indian state of Uttar Pradesh.
In Uttar Predesh about 2,000 Rapid Response Teams were sent to over 10,000 households checking for Covid-19 infections and distributing home care kits containing: Paracetamol tablets [tylenol], Vitamin C, Multivitamin, Zinc, Vitamin D3, Ivermectin 12 mg [quantity #10 tablets], Doxycycline 100 mg [quantity #10 tablets]. Other non-medication components included face masks, sanitizer, gloves and alcohol wipes, a digital thermometer, and a pulse oximeter.
https://www.zerohedge.com/covid-19/indias-ivermectin-blackout-secret-revealed
Five weeks after the start of this programme, the number of Chinese plague cases in Utter Pradesh had dropped by over 97%. On August 25, 2021, the Indian media noticed the discrepancy between Uttar Pradesh's massive success and other states, like Kerala's, comparative failure. Although Uttar Pradesh was only 5% vaccinated compared to Kerala's 25%, Uttar Pradesh had (only) 22 new COVID cases, while Kerala was overwhelmed with 31,445 in one day:
The reddish line shows the number of cases in Kerala state where about 25% of the population were vaccinated and the blue line shows the case numbers in Uttar Pradesh where just 5% of the population were vaccinated.
So it could be concluded that whatever was contained in those treatment kits must have been pretty effective.
I'm not a conspiracy theorist, but ………
I would never sink to the level of conspiracy theorists who might suggest that the pharma companies (especially Merck) have colluded with the FDA and the media to discredit the incredibly cheap, out-of-patent Ivermectin so that we could be sold the much more expensive, in-patent Molnupiravir plus other similar and similarly expensive new antiviral drugs which will soon be on the market.
To suggest this would be to suggest that many of the 5 million who have been slaughtered by the Wuhan plague have died unnecessarily as there was always a cheap and effective treatment (Ivermectin) available.
But some people might worry that things may not be quite what the mainstream media are telling us:
https://www.zerohedge.com/covid-19/ivermectin-truth-totalitarianism