Monday/Tuesday blog
121 years and still waiting for wind
A good place to start today's blog might be a New York Times article from 1911 which helpfully informed us that in the future wind power (wind plus a dynamo to transform the wind into electricity) and storage batteries would provide much of our energy needs – "the great social and economic trio of the future is the windmill, the dynamo and the storage battery from which will come warmth and energy":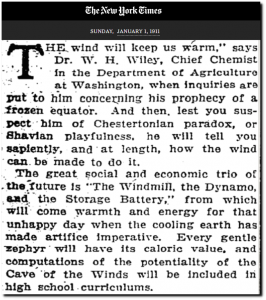 That was 121 years ago.
The New York Times also predicted that our schools' curriculums would include teaching about how wind would provide our electricity. Well, at least the New York Times got that bit right.
Has Kwasi 'Khazi' Kwarteng got a clue?
This brings us to Kwasi 'Khazi' Kwarteng. In several recent interviews, including on Sunday's Andrew Marr Show, our Business Secretary, Mr Kwarteng, was asked about how Boris and Carrie's greeny government planned to solve the current energy crisis which threatens to shut down large parts of British business and bankrupt many farmers and poorer households.
As you'll know, the energy crisis is partly caused by shortages of and therefore massive price rises in natural gas as panicking countries fight over limited supplies. The UK has been particularly badly affected because there has been a lack of wind to power all our wonderful bird-chomping wind turbines and so wind has dropped from supplying (I think) about 20% of our electricity to somewhere around 2%.
There were two possible answers to the question Marr asked Kwasi – a right answer and a wrong answer.
The right answer would be that the Government has realised that the UK needed to become energy-independent and would therefore encourage more oil and gas fields in the North Sea, fracking for gas in the North of England (in addition creating thousands of jobs and thus 'levelling up') and burning local coal in power stations rather than cutting down trees in the U.S. and shipping bits of tree across the Atlantic to be burned in British power stations. That would be an intelligent answer. But, of course, that would go against Fat Bunter's desperate craving to satisfy his latest baby-making machine by posing as the man who saved the world from supposed global warming or climate change or climate emergency or climate crisis or climate breakdown or whatever it's called this week
The wrong answer was the one we got from Business Secretary Khazi Kwarteng (and all our other politicians) – "We need to double down on renewables" Khazi told us. His 'reasoning' was that more renewables would protect us from uncontrollable gyrations in the international price of fossil fuels. Of course, Marr 'forgot' to ask Crazy Khazi what would be the point of more wind turbines if the wind didn't blow as it hadn't done for the last month or so. As for solar energy, in my book "THERE IS NO CLIMATE CRISIS" I quote the CEO of RWE (one of Germany's largest power companies) who said that producing solar power in Germany is "as sensible as growing pineapples in Alaska".
Khazi Kwarteng's logic is the logic of the madhouse.
Mad, madder, maddest?
All that sort of connects to my next point. A couple of days ago, I was looking through the images I had downloaded to possibly use in my book. I noticed something I stupidly hadn't seen when writing my book. Beside each other in my files were two newspaper articles from 1989. In the first one, the New York Times (at the time a real newspaper but now a Greta-adoring, Guardian-lookalike, climate-catastrophist propaganda rag) informed us in January 1989 that "U.S. data since 1895 fail to show warming trend":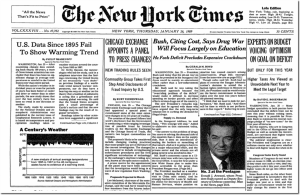 (left-click on images and then left click again to see more clearly)
But just alongside the New York Times article another article in my files from June 1989, told a completely different story: "U.N. predicts disaster if global warming not checked":
I wonder why the U.N. was predicting disaster in 1989 when there had been no indication of warming since 1895?
More madness from the climate catastrophist crazies?
Predicting doom and disaster
Moreover, if you left-click on the above article and then left-click again, you'll see that as with all these warnings, we were told in June 1989 that "governments have only a 10-year window of opportunity to solve the greenhouse effect before it goes beyond human control". That's pretty much exactly the same warning we're getting now (32 years later) as Boris's great big Cop26 climate hot air bletherathon in Glasgow approaches.
You'll also see the usual predictions of melting ice caps, Maldives disappearing beneath the waves and coastal regions being destroyed by a 3-foot rise in sea levels. Strangely, none of these 32-year-old predictions, that should have happened by June 1999, has yet happened. Yet the climate catastrophists keep on repeating them again and again and again: