Wednesday/Thursday blog
Making Flop26 another disaster for us stupid taxpayers?
As you'll all know, our wonderful prime minister, Boris the Brave, is busy battling away at the UN in New York trying to save us all from supposed climate breakdown. (Yes, last week it was called "Climate Crisis", but now we apparently must use the term "Climate Breakdown" to show how serious the situation has become).
A key element of Bunter's crusade is ensuring a $100bn-a-year fund to be paid by industrialised countries to developing countries to help them supposedly fight supposed climate breakdown. And the British mainstream media is already gushing with praise for Braveheart Boris by claiming that he was influential in convincing walking cadaver, President Joe Biden, to increase the amount US taxpayers would have to stump up from $5.6bn a year to $11.4bn a year. Meanwhile we in Britain will be paying $3bn a year into this $100bn-a-year bonanza for the world's most cess-pit countries. It's amazing how generous politicians are with our money.
There's no room here to explain why the whole idea of this $100bn-a-year fund is an act of intergalactic stupidity. But I'll just touch on two main problems
Problem 1 – What climate breakdown?
As I explain in quite some detail in my most recent book – THERE IS NO CLIMATE CRISIS – there is no climate crisis. There is no climate breakdown. So there's absolutely no need for splaffing $100bn of Western taxpayers' money a year on something that isn't happening.
FFS, how can anyone believe that an increase in a trace gas (CO2) from 3 parts per 10,000 of our atmosphere to 4 parts per 10,000 over 150 years is going to drastically change the Earth's climate and wipe out most of mankind? The whole concept is ludicrous.
Anyway, if you're dumb enough to believe in the Greenhouse Gas theory, then why aren't you worried about water vapour. Water vapour makes up over 90% of the Earth's greenhouse gases. Even the ludicrously-politicised IPCC (Inter-Governmental Panel on Climate Change) highlights the importance of water vapour: "Water vapour is the most abundant and important greenhouse gas in the atmosphere". But you'll never hear the climate catastrophists mention that as it demolishes their claims of CO2 being the main driver of our climate.
The catastrophists also tend not to mention the Sun and the effect of variations in the Earth's orbit and in solar activity on the Earth's climate: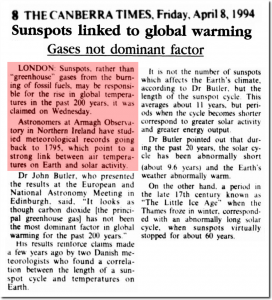 I could go on and on and on and on – but I've already covered the truth about the Climate Breakdown delusion/psychosis in my book.
Problem 2 – Corruption, corruption, corruption ……….
Here's a brief quote from my 2015 book – THE GREAT CHARITY SCANDAL
In Europe, after the Second World War the US-sponsored Marshall Plan is generally credited for helping war-ravaged European countries to rebuild and become prosperous. So some people have demanded a 'Marshall Plan for Africa'. There's only one problem with this demand. Africa has already had its Marshall Plan – several times over. In the last fifty years Africa has been given the equivalent of around ten Marshall Plans. In today's money, the five-year European Marshall Plan saw about $100 billion – $20 billion a year – being used to rebuild Europe after WWII. In the last fifty years, Africa has received over $1 trillion in aid. So, Africa received about the same every year – $20 billion a year – for fifty years that Europe received each year for just five years. Yet there's little evidence that those countries getting the most aid have benefited from this aid and a quarter of Sub-Saharan countries, including some of the world's greatest recipients of foreign aid, are now poorer than they were in 1960.
Where has all this money gone? Where are all the new hospitals and schools and roads and universities and power stations and all the other modern facilities we in the West have paid for again and again and again? The table below might give more than a hint as to were all our money has gone: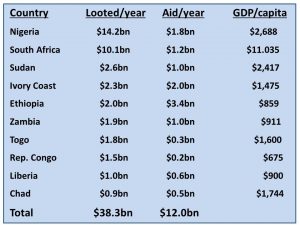 The organisation Transparency International has estimated that every year African rulers loot three times as much as their countries receive in foreign aid and foreign investment.
So, what do you think will happen to the $100bn a year that we in the developed countries are forced to hand over to the world's most corrupt and venal scum to supposedly save their countries from supposed Climate Breakdown?
Just another day in glorious Africa?
And if Boris and Joe get their $100bn-a-year cash extravaganza, here to cheer us all up is just one illustration of what will really happen to all our cash that we will be forced ship off to supposedly save the world's poorest countries from the supposedly disastrous effects of supposed climate breakdown.
Enjoy: