Monday/ Tuesday blog
(Hopefully readers of a certain age will recognise the title of today's blog from a 1966 Mamas and Papas song – California Dreaming)
The Good News and the Bad News
The good news is that our wonderful government is turning Britain into a version of California. But that's also the bad news.
In Chapter 13 "The West's Economic Suicide" of my latest book – THERE IS NO CLIMATE CRISIS – I quote a Forbes Magazine article about energy-rich California's energy crisis:
California now imports most of its crude oil from overseas (since the extraction of its ample local oil resources are practically banned) and it imports nearly a third of its electricity from neighbouring states (since nuclear and natural gas-fuelled power plants are progressively shutdown by legislation). Between 2011 and 2017, California's electricity prices rose five times faster than they did nationally and now Californians pay 60 percent more, on average, than the rest of the nation, for residential, commercial and industrial electricity.'
The UK's absurd and pointless Greeny policies of wrecking our energy supply to supposedly 'save the planet' has caused gas prices to more than triple (up 324%) in just a year forcing industries (steel and fertiliser) to shut down, resulting in a shortage of the supposed 'climate killer' gas CO2 and threatening us with a winter of soaring energy prices, food shortages and power cuts. This is in spite of the UK sitting on centuries-worth of abundant gas (from fracking) and coal (from mining) and having world-beating nuclear power technology that can easily and quickly be adapted from our nuclear-powered submarines to build small local nuclear power stations.
Commenting on California's disastrous woke, supposedly environmentally-friendly failure to use its own energy, a spokesperson from the U.S. Environmental Protection Agency said:
California's record of rolling blackouts – unprecedented in size and scope – coupled with recent requests to neighbouring states for power begs the question of how you expect to run an electric car fleet, that will come with significant increases in electricity demand, when you can't even keep the lights on today.
Sounds familiar? Truly our Government seems to be turning Britain into a version of California but without the blue skies and sunshine and beaches and cute California bikini-clad blondes:
And demolishing a country's energy supplies has consequences. As I write in my book:
Partly due to increasing energy prices along with other high-tax, anti-business, ultra-woke policies, between June 2019 and June 2020, around 135,000 people left the once 'Golden State'. Moreover, Oracle, Palantir and Hewlett-Packard Enterprise were among the estimated 13,000 companies that have moved out of California since 2014 and relocated to more business-friendly states like Texas.
Just to illustrate the problem, here's a photo of Los Angeles today: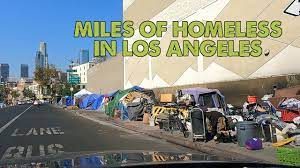 Not many bikini-clad blondes here.
I could hardly have been be clearer in my warning in THERE IS NO CLIMATE CRISIS when I did a whole chapter on The West's Economic Suicide.
The only thing I got wrong was that I didn't expect the implosion to happen so quickly. Though it's wonderful that Britain is turning into a cold, wet version of energy-rich but energy-starved, collapsing California just a few weeks before Boris's big virtue-signalling, climate-alarmist, pointless, posturing Crap26 climate conference in miserable, sunshine-challenged Glasgow.
It would be rather amusing if Boris and Princess Nut Nut had to hold their hugely important, ego-boosting planet-saving conference by candle-light in an unheated conference centre in Sturgeon's drugs-ridden, slum-city, dismal Glasgow.
To cheer us all up as our incompetent rulers, enthusiastically egged on by all our mainstream media (especially the BBC, C4 News, Sky News and the Times), take a climate catastrophist wrecking ball to our country and our lives, here are the Mamas and Papas with California Dreaming: