Wednesday/Thursday blog
Here's a more than important story I suspect you won't find in any of our 'widely-respected' British mainstream media.
It seems that journalists – I mean real journalists, not the biased, Trump-loathing, West-hating, migrant-hugging, climate-catastrophist garbage who produce most of our supposed 'news' – in the U.S. have finally found the smoking gun which proves that 'Federal Funding' through the EcoHealth Alliance was paying for dangerous 'gain of function' research on bat coronaviruses at the lab in Wuhan. This is, of course, something Fauci has denied and denied and denied with Fauci even calling a U.S. Senator, former doctor Rand Paul, a liar for suggesting that Fauci was funding 'gain of function' research at Wuhan.
Here's a brief excerpt from over 900 pages of documents obtained in the U.S. under a Freedom of Information Act request about virus experiments in Wuhan funded by the U.S. :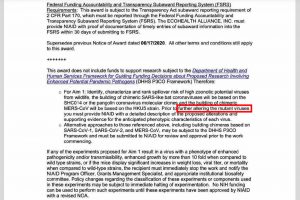 I strongly recommend that readers left click on the image, wait a few seconds and then left click again to see it more clearly as it is absolutely damning and seems to me to completely contradict Fauci's previous claims that no U.S. Federal money went to funding 'gain of function' research on bat coronaviruses at Wuhan.
Please notice a couple of key lines:
prior to further altering the mutant viruses, you must provide NIAID with a detailed description of the proposed alterations
if any of the experiments proposed for Aim 1 result in a virus with a phenotype of enhanced pathogenicity and/or transmissibility enhanced growth more than 10 fold when compared to wild-type strains …….. the recipient must immediately stop the work and notify the NIAID Program Officer
You don't need to be a scientist to understand that this document proves U.S. taxpayer money was being chanelled to the Wuhan lab through the EcoHealth Alliance to enhance the pathogenicity and/or transmissibility of bat coronaviruses compared to their natural pathogenicity and/or transmissibility. Nor do you need to be Einstein to understand that the funder (Fauci) was aware that the experiments could increase the pathogenicity and/or transmissibility by more than 10 fold. If that isn't 'gain of function' then what is?
I could write more on this  story, but I think the brief summary above tells us all we need to know.
Will the Biden Broadcasting Corporation or C4 News report this smoking gun?
Don't hold your breath!