Tuesday blog
I have to admit that the TV images of water pouring into the New York subway from Hurricane Ida were pretty impressive and almost apocalyptic. And, of course, they led to the usual hyperventilating and howling from the Guardian and the BBC and others of their ilk:
But were the Hurricane Ida floods really so exceptional and 'historic'?
Here's a chart of the highest levels of rainfall in New York Central Park since 1869:
(left click on chart and then left click again to see very clearly)
No obvious signs of the recent rainfall being either 'historic' or linked in any way to supposed climate change caused by increasing atmospheric CO2 levels.
Here's the level of rainfall in New York from Hurricane Ida: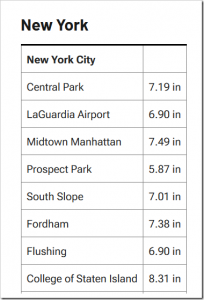 But here's the most recent record from 2014:
Readers with an understanding of advanced mathematical theory will probably realise that the 2014 record of 13.57 inches is slightly higher than Hurricane Ida's 7 inches
And finally, while living corpse Joe Biden and most of the mainstream media claimed that never before has the U.S. experienced heatwaves in the West at the same time as flooding in the East, here's a newspaper article from 1926 informing us of massive flooding in the East while there were terrible dust storms in the West: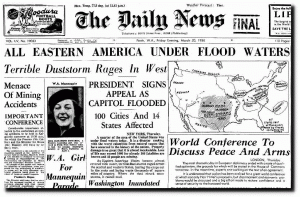 Got that wrong too Joe. Time to be carried off to the old folks home?
Only my latest book – THERE IS NO CLIMATE CRISIS – can be trusted to tell the truth about our climate.
Perhaps if Boris and his bunch of useless, waste-of-skin, self-serving, expenses-fiddling, arrogant, scientifically-ignorant MPs were to read my book then they wouldn't be about to drag our long-suffering country back to the Stone Age in order to achieve the ludicrous 'net zero' to supposedly fight supposed climate change?