Monday/Tuesday blog
The pride of British architecture?
Here's a typical UK tower block. In this case it's the infamous Grenfell Tower:
Wikipedia tells us that the building's top 20 storeys consisted of 120 flats, with six per floor – two flats with one bedroom each and four flats with two bedrooms each – with a total of 200 bedrooms. Its first four storeys were non-residential until its most recent refurbishment, from 2015 to 2016, when two of them were converted to residential use, bringing it up to 127 flats and 227 bedrooms; six of the new flats had four bedrooms each and one flat had three bedrooms.
In total Grenfell Tower was supposed to house about 600 people. But the more cynical amongst us may suspect that many of those who were given cheap or even free council accommodation there chose to live somewhere nicer and then illegally sublet their properties to large families of multi-cultural enrichers who turned the building into a Third-world slum fire hazard by having their electrical appliances connected with faulty DIY wiring:
and dumping all their crap and old mattresses and prams and cycles and whatever in the corridors and stairwells blocking fire doors and fire escapes: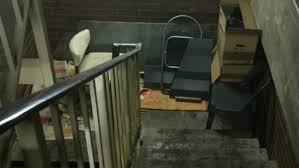 But, of course, we're not allowed to mention such suspicions as that would be racist.
I don't know what has happened in the multi-million pound Grenfell inquiry. But one thing we can be certain of is that us ghastly white Brits will be blamed for everything and nobody will ever mention that the probable reason the fire started was that the occupants had turned the building into an overcrowded, garbage-strewn, filthy, dangerous, Third-world slum.
Priti's Border Farce ferry service busier than ever
On just one day last week Priti 'Useless' Patel's free ferry service brought an astonishing record of 592 illegal invaders from French beaches to the UK. So far this year, Priti 'Totally Useless' Patel's Border Farce ferry service has carried 11,314 multicultural invaders to the UK. For the whole of 2021 we can expect at least 20,000 pieces of Third-world garbage to be brought to the UK by the (IMHO) worthless waste of skin Patel.
We're going to need more tower blocks
Assuming a tower block like Grenfell Tower can accommodate 600 diverse, vibrant, multi-cultural enrichers, to house the 20,000+ Patel's People being brought to the UK by Patel's Border Farce ferry service this year, we're going to need to build around 33 Grenfell-sized tower blocks this year. That's one new Grenfell-sized tower block every eleven days.
Let's hope the diverse, vibrant, enriching new arrivals don't turn their new homes into Third-world slums and set fire to those just like I suspect they did at Grenfell Tower.
"Taliban unlikely to conquer Afghanistan" says Biden
To cheer us all up on yet another dismal, globally-warmed Monday morning, here's America's Comic-in-Chief, Joe Biden assuring us that a rapid and imminent Taliban takeover in Afcrapistan is unlikely: