Friday/weekend blog
(I won't mention my latest book – THERE IS NO CLIMATE CRISIS – in today's blog)
Once the EU's most peaceful country?
If I were to ask you which EU country has long been seen as the most peaceful, most laid-back and most crime-free, a lot of you might suggest Sweden:
Having worked in Sweden for several years (and as someone who speaks Swedish), I would have agreed with you.
OK, Sweden was dull. Nothing ever happened there. And the Swedes were incomparably boring. But their country was beautiful and peaceful: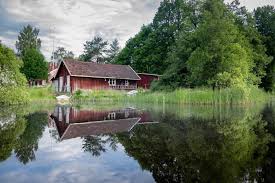 But that was then and this is now. And 'then' and 'now' are very very different.
Now the EU's most dangerous country?
I was more than surprised to find this article in the lefty Guardian admitting that in terms of gun-crime murders, Sweden was the second most dangerous country in Europe:
Sweden is the only European country where fatal shootings have risen significantly since 2000, leaping from one of the lowest rates of gun violence on the continent to one of the highest in less than a decade, a report has found.
The report, by the Swedish national council for crime prevention (BRA), said the Scandinavian country had overtaken Italy and eastern European countries primarily because of the violent activities of organised criminal gangs.
"The rate in Sweden ranks very high in relation to other European countries, at approximately four deaths per million inhabitants per year. The average for Europe is approximately 1.6 deaths per million inhabitants," it said.
Of 22 European countries analysed in the report, data from 2014-2017 put the country in second place, behind Croatia and ahead of Latvia. In 2018 it topped the ranking, although data from some countries was not complete that year.
Last year the country of 10.3 million people recorded more than 360 incidents involving guns, including 47 deaths and 117 people injured. "The increase in gun violence in Sweden is unique in comparison with most other countries in Europe," Håkan Jarborg, a police chief in southern Sweden, told the TT news agency.
Between 2000 and 2003, Sweden was 18th out of the 22 countries for deadly shootings per capita. But after a long period of decline, deadly shootings began to increase in the mid-2000s and have continued to do so, the report found, whereas in most other countries in Europe lethal violence has declined.
Sweden has also become European leader in lots of other forms of violence and mayhem:
And, of course, rape: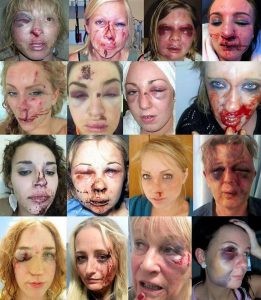 Don't mention Third-world immigration
So, have ordinary, boring Swedes recently become violent, murderous animals? Or has something else changed in once peaceful, dull Sweden?
Here's a chart, again from the Guardian. It shows the rise of the number of multi-cultural enrichers who have decided to move to Sweden:
And here's chart showing the rise in violent crime: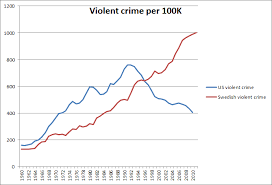 (the red line is Sweden, the blue line is the USA)
I wonder if there could be any link between the stupid Swedish libtards welcoming ever more Third-World enrichers and the frightening rise in violent crime and social disorder?
No. It's not possible.
After all, we're always being told that 'diversity is our strength"