(Monday to Thursday blog)
Regular readers will know that I'm currently working on a new book about the supposed catastrophe of man-made global warming. The book will be called THERE IS NO CLIMATE CRISIS: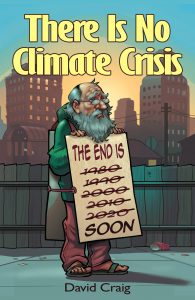 Hopefully it will be finished by the end of May.
One of the supposedly strongest arguments supposedly 'proving' that Catastrophic Anthropogenic Global Warming (CAGW) is happening is the endlessly repeated claim that "97% of scientists" agree with the theory.
President Obama is just one of the many who have made this claim: 'Ninety-seven percent of scientists agree: climate change is real, man-made and dangerous.'
So did President Biden's Special Presidential Envoy for Climate, John Kerry, during a speech to graduating students at Boston College warning of the 'crippling consequences' of climate change and that: 'Ninety-seven percent of the world's scientists tell us this is urgent.'
And, of course, Al Gore used a similar message: 'Only an insignificant fraction of scientists deny the global warming crisis. The time for debate is over. The science is settled.'
So, in this blog I'll explain this utterly fake figure of 97% was conjured up by climate catastrophists and has absolutely no basis in reality. If you have recently left university with a Mickey Mouse woke degree in something like Gender Studies or Subconscious Racism Studies, please stop reading now as I use some very complex (for you) mathematical concepts like percentages which you will have difficulty grasping.
The main author of the paper which came up with the famous 97% figure was an Australian former web programmer and blogger who later gained a PhD in Philosophy at the School of Psychology, University of Western Australia and then founded what could be seen as a climate alarmist website.
He assembled a group of volunteers recruited (I believe) through the website and tasked them with 'examining 11,944 climate abstracts from 1991-2011 matching the topics "global climate change" of "global warming"'. Note that the volunteers didn't read the actual scientific papers, they just looked at the abstracts – a couple of paragraphs describing what was in the papers. The volunteers then classed the abstracts into one of seven categories according to their opinions of Anthropogenic Global Warming (AGW):
Explicit endorsement of with quantification

Explicit endorsement of without quantification

Implicit endorsement

No position or Uncertain

Implicit rejection

Explicit rejection without quantification

Explicit rejection with quantification
The reviewers then 'simplified' results into four main categories as follows:
Endorse AGW 3,896   32.6% of abstracts
No AGW position 7,930   66.4% of abstracts
Reject AGW 78   0.7% of abstracts
Uncertain on AGW 40   0.3% of abstracts
So, this gave only 32.6% who, the reviewers concluded, endorsed AGW. This was clearly not quite the stunning endorsement of 97% the paper claimed.

Now comes the subtle bit. Instead of admitting that just 32.6% of papers (actually just abstracts of papers) endorsed AGW, the group decided to remove all the 7,930 abstracts which didn't take a position of AGW. Then, hey presto, magic happened. That left just 4,014 abstracts of which 3,896 (97%) supposedly 'endorsed' AGW.
This was a bit like doing a survey of the voting intentions of 1,000 people. You find that 90 say they'll vote Democrat (U.S.) or Labour (UK) and 10 say they'll vote Republican (U.S.) or Conservative (UK) and the remaining 900 say they're 'undecided'. You then choose to eliminate the 900 'undecideds' and you claim that 90% of voters support Democrats (U.S.) or Labour (UK) and just 10% of voters will vote Republican (U.S.) or Conservative (UK). This is, of course, complete statistical buffoonery as the real percentage of the sampled 1,000 voters who have said they will vote Democrat/Labour is actually just 9% and not 90%.
But that's not the end of the 'trickery' employed to reach that wondrous 97%. The reviewers decided to lump together three categories of abstracts – Explicit endorsement with quantification; Explicit endorsement without quantification and Implicit endorsement. But in the paper claiming 97% support for AGW, the reviewers don't tell us how many papers fitted into each of these three categories. An independent researcher managed to get hold of the original data and found out that in 3,896 abstracts which supposedly 'endorsed' AGW, just 64 were in the Explicit endorsement with quantification category; 922 were in the Explicit endorsement without quantification; and the vast majority – 2,910 (out of 3,896) were in the Implicit endorsement of AGW category.
As for the 2,910 abstracts which the reviewers decided gave 'Implicit endorsement of AGW', what we had was about 11 to 12 volunteers, all of whom were probably firm AGW believers each having to look at around 1,000, often quite obtuse, scientific abstracts. During this, they decided whether they thought the scientific papers (which they hadn't read as they had only looked at the abstracts) implicitly supported the AGW supposition. To claim such an approach is 'scientific' is more than ludicrous. To call the '97% of scientists' result garbage could be seen as insulting to garbage.
So, when you dig down into how the '97% of scientists' figure was actually conjured up, you find that only 986 of 11,944 – that's just 8.2% – of abstracts actually explicitly said they agreed with the theory of man-made Global Warming. And that's clearly not the kind of figure the apocalypse-threatening warmists would really want to publicise too widely.
It is beyond incredible that not a single mainstream-media journalist has had either the ability or the inclination to expose the more than dubious origins of the almost ubiquitous '97% of scientists' claim.