(weekend blog)
I don't have any good stories this weekend. So I've 'borrowed' and adapted the stuff below from someone else's blog. I suspect they probably 'borrowed' it from some other person's blog who probably 'borrowed' it from yet another blog and so on and so forth. The blogging world is a brutal place.
*Disclaimer; these views are for entertainment purposes only.
When you're on holiday, there are certain stereotypes that you go out of your way to avoid and who you would happily see being devoured by sharks.
1. Barstool Philosophers
Usually managing to make Keith Richards look healthy and nursing their happy-hour beer till it virtually evaporates, these fountains of faux-wisdom are often in the final years of their lives (not a bad thing from a world view perspective):
For the price of a fresh beer or a short, or sometimes just because they think you need to hear about their decades of experience in Pattaya/Sihanoukville/Insert sleazy resort of choice here, these alcoholic versions of the Oracle at Delphi know everything you will ever need to know about relationships, visas, the locals, dealing with police, which bars have the best happy hours, running a business (they have likely failed at several), where to go for a full English/Aussie pie/burger, quantum physics, and a whole plethora of other mind-numbingly uninteresting facts, figures, and anecdotes. Ok, maybe not the quantum physics, but you get my drift. The ironic thing is, despite their lengthy time in the country, these sages rarely speak more than a smattering of local phrases, and those tend to be ones that can be used for purchasing either alcohol or sex. If you find yourself stuck beside one of these geriatric argle-bargles, then quickly finish your drink and escape. Irritation factor: 8/10
2. Special forces operatives or Crims on the run
Another common species found throughout the world's holiday spots, they suffer from severe cases of Walter Mitty Syndrome. Get stuck next to one of these creatures and they will regale you with their convoluted tales of a life in organised crime (or sniper duty in Iraq) and how they used their brains to evade the forces of law and order (or the Taliban):
They will let you take away the impression that they are war heroes or major underworld figures with a price on their head. They will pepper their stories with dashes of colour in the form of shoot-outs while hopelessly outnumbered by fierce guerrillas or with gangland figures (whose names they have harvested from old news stories) or tell grand tales of living la vida loca that involves nubile women who happen to be contortionists, piles of cocaine Tony Montana would run from, and yachts more often seen in the marinas of Monaco. The (sad) reality is that the only wars they have been in were when drunk in various bars, their true criminal record amounts to shoplifting in Woolworths when they were 14, and the only nubile woman they have ever encountered charged by the hour. (In case you were wondering, the guy in the picture is actually a real tough guy, is known as 'Sharky' and is a former loan shark from Australia's Gold Coast and definitely someone to be avoided) Irritation factor: 7/10
3. The Trust Fund Twatpacker
Whereas most backpackers are on a real budget, these trusties are on an imagined budget. Often with names like Tristan or Gabriella, these are the privileged few, armed with top-of-the-range rucksacks, $200 sandals, obligatory rebellious piercing, and the inevitable 'emergency' debit/credit card from mummy/daddy:
Their trip is usually part of the last fling gap year before going on to a high-level university then a job in the city/media/pr/managing the family estate. They have spent some pre-trip time religiously learning some local phrases so they can "…blend in with the natives, yah" and have memorised all relevant pages of their copy of the Lonely Planet guide. They're the first to hit the markets after arrival and buy some of what they think is local garb, particularly those awful jasmine/elephant pants that deserve to be doused in gasoline at the earliest opportunity. They are also most likely to cover themselves in fluorescent body paint and spend 12 hours dancing to the boredom that is psytrance. Irritation factor: 8/10
4. Chinese tourists
The simple fact is that your average Chinese tourist is an absolute nightmare. They waddle around in huge groups forcing everyone else out of the way. Spitting and blowing their snot out at some of the world's best-loved tourist attractions, pushing other tourists aside so they can take their pictures (even though they all look the same), attacking buffets like crazed herds of velociraptors, bussed around in convoys of pollution-belching coaches and showing a total lack of respect for local ways or customs (though this latter one can be a feature of many tourists). But just why are they so bad?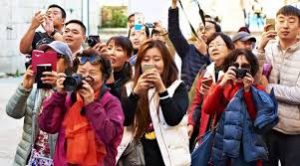 Lots of theories have been put forward, from lack of education among middle-aged Chinese, no awareness of other cultures, a (well-founded?) belief that soon they'll take over the world, right through to the perhaps overly simplistic explanation, "They're Chinese."
If you see a large group approaching – and they only and always travel in large groups…run! Irritation factor: 5/10
5. The Ecowarrior Vegan Pansexual Minstrel
This group are the backpacker equivalent of Jehovah's Witnesses on a crack/acid cocktail, only this group smells bad, very bad, "Because washing damages mother earth, man". They're out to save the planet in any way they can, though they do seem to have conveniently forgotten the carbon footprints they left in getting wherever they are:
They will all get tattoos while travelling because "this country has left its mark on my soul, man" and the majority will have dreadlocks, though usually temporary ones. Often found with a guitar or didgeridoo, they will regale you with tales of their journey upriver and how they communed with nature and the spirits of the forest. Popular phrases amongst this group include; "I'm here to find myself", "That's so deep, man", "The Goddess will be a gateway to high-frequency fulfilment", "The grid is calling to you via a resonance cascade", "Consciousness consists of meridians of quantum energy", and "Eons from now, we warriors will heal like never before as we are aligned by the dreamtime." They will quote Paulo Coelho, Rumi, and Russel Brand at you…incessantly. They will also all either have a personal shaman or they are one, and will gladly tell you of their amaaaaazing ayahuasca experience in the Venezuelan rainforests. Don't ever mention to this group that you are against animal cruelty but still eat meat or you will be subjected to a 12 hour Billy Graham style sermon on why you can't be both. If you end up with one of this group next to you, there are various tactics you can employ, including ordering a steak, offering them soap, spraying them with a chemical insect repellent, or simply shooting them in the head. Irritation factor: 11/10
 6. The Travel Blogger
Since the spread of smart phones and social media, suddenly everyone and their Auntie Mable seem to have travel blogs. Some can be quite informative, but most are utter drivel. How do you spot these creatures if you are out and about?
Well, much like vegans, this group seem to suffer from some form of compulsive behaviour that means they have to tell you they are a travel blogger, usually followed by how many hits last week's blog on the Ko Pha-Ngan full moon party got or how many retweets, shares on Facebook etc. etc. They come in all physical types, nationalities, class types, and backgrounds, but you can usually spot them at your favourite beach bar or restaurant frantically typing away on their laptop as they update their 17 regular visitors on just how fresh the shrimp is on this beach compared to the last beach. Irritation factor: 5/10
7. The Voluntourist
These are nearly always Guardian readers from affluent UK suburbs (or the equivalent in other countries), who wear green wellington boots, recycle their waste religiously, and have a standing order from their bank to Greenpeace or whichever good cause is the current flavour of the day:
There are many companies which capitalise on voluntourism by charging silly prices. Unless you are bringing very specific skills to the table which will make a real and tangible difference to the locals, then your few weeks of narcissistic, self-regarding supposed 'volunteering' achieves very little other than patting yourself on the back and giving yourself almost endless photo opportunities of yourself with grateful locals. You may have good intentions but honestly, no, stop it, go and lie on a beach instead and, when you get back home, why not find a local good cause that could do with help and volunteer some time there EVERY week. There is also the consideration, when the charity/NGO project involves children, that you can do more harm than good. Such short term interventions, no matter how honourable your intent, can in fact cause psychological harm to what is likely a vulnerable group. Irritation factor: 7/10
8. The Hipster. 
This is a worldwide scourge that needs exterminating as soon as possible:
With their carefully coiffured beards, their stupidly retro dungaree shorts, checked shirts that belong in a Canadian lumber camp, and their obscure and esoteric tattoos that only tell us how much of a dick they are, this is one trend that will ideally die out sooner rather than later. Now combine those hipsters with backpackers (hippackers?) and you have a creature that is crying out for a continual slapping. If you find yourself in the company of one of these people the best course of action is "exterminate, exterminate" (as the Daleks suggested). Irritation factor: 14/10