(Monday blog)
One of the biggest battlegrounds in the upcoming election is, of course, the NHS. In this truth-lite world in which we live, the NHS is above and beyond criticism and reproach and so all politicians desperately promise to pour ever more tens of billions into the black hole that is our NHS – supposedly the "envy of the world".
As we once again face being wrung dry to pay more and more for our beloved NHS, I thought it might be worth spending today's blog, suggesting where we are being told the truth and where we are being lied to about the NHS
More money, more staff
Claim 1 – The NHS is starved of cash
All parties hope to buy our votes by claiming that they will be fabtastically generous to our 'wonderful NHS'.
But hold on a minute. Last year £140bn was spent on health across the UK – more than ten times the figure 60 years ago: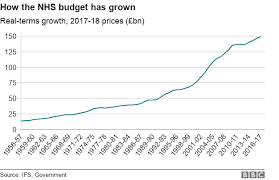 And this is after you adjust for inflation. Moreover, a much greater proportion of government spending is going into the NHS than ever before: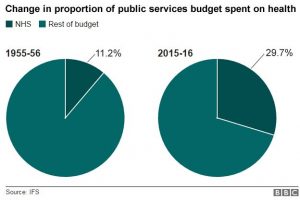 So the claim that the NHS is somehow having its budget squeezed is total and utter nonsense – unadulterated bollox (to use a technical expression)
Claim 2 – The NHS is desperately understaffed
It's true that there are tens of thousands of vacancies for doctors and nurses and various specialist skills like radiographers. But the NHS currently employs 1,482,000 people, versus 1,300,000 in 2008/9 and 967,000 in 1999. So it is 53% bigger than in 1999, and 14% bigger now than its peak during the Labour years in people terms:
And although the population of Britain has been growing, the ratio of NHS staff to population is the highest ever. So how can the NHS be "understaffed"? The NHS may be "understaffed" in comparison to the numbers of staff it would like. But there are more NHS staff per 100,000 of population now than there have ever been.
As for the probably real shortage of nurses in some areas – this has been caused by incompetent NHS management and not by any lack of money. The crassly stupid decision by NHS bosses to change nursing from a (I think) 18-month practical vocational qualification, where teaching was done in teaching hospitals, to a 3-year much more theoretical degree qualification with teaching done in polys pretending to be universities (while also scrapping bursaries for nurses in training) has decimated the numbers going into the profession.
So, what is going wrong?
Claim 3 – the NHS is missing key targets
Absolutely true. The one target we constantly hear about is percentage of A&E admissions seen within four hours: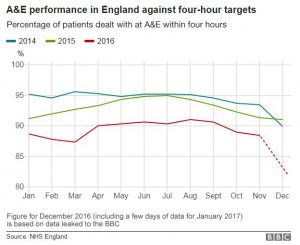 This has been falling in spite of record amounts of money being poured into the NHS and in spite of record staff levels. A lot of this is due to a breakdown in GP services due to the extraordinarily generous contracts offered to GPs by the Labour Government. This gave GPs huge salary increases for doing less work and has resulted in a surge in people going to A&E because they can't get GP appointments any more: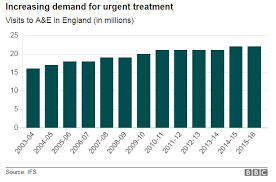 Up to 2004 when the new GP contracts were introduced, A&E visits were stable at about 14 million a year. Labour's 2004 contract prompted nine out of ten GPs to ditch out-of-hours care.This made it much harder for people to see a GP, except during working hours on a weekday. The result was increased attendances at A&E
By 2010, they had climbed steadily to 20 million a year and they have kept increasing since then.
Claim 4 – Britain's ageing population is to blame
It is also true that Britain's population is ageing: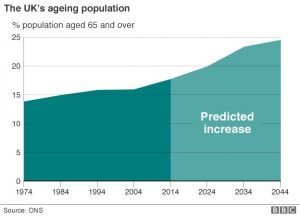 And that health spend tends to increase as people get older: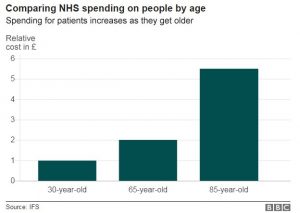 Though none of those bleating and howling about how people who have worked and paid taxes all their lives are 'ruining the NHS' ever mention the catastrophic drain on NHS resources caused by some of our most fecund communities having 70% or more of their children being the unfortunate result of first-cousin marriages:
Claim 5 – The UK spends less on health than other advanced countries
It's true that the UK is not a top spender on health compared to the EU average:
But the difference is really quite small and cannot explain away the under-performance of our health service compared to other EU countries.
And I don't have space here to deal with another massive NHS management blunder – over £4bn squandered on a computer system which (as I explained in my 2006 book PLUNDERNG THE PUBLIC SECTOR) could never work.
Conclusion
Depending on your political views you can reach a whole host of different conclusions from the above charts.
Having written about the NHS in several books – including a book I ghost-wrote WHO CARES? by Amanda Steane – my conclusion would be as follows:
The politicians' terrified reaction to every negative story about the NHS is always "more cash" to be poured into our wastrel, hopelessly mismanaged health service. Nobody dares suggest that the NHS's over-paid, over-pensioned 35,000 managers (up from 25,000 in 1997) might be asked to improve the way they spend our money rather than always screaming for more.
But "Realpolitik" – the need for votes – means politicians never dare challenge how the NHS splashes our cash. Instead they continue to feed the monster they have created, lest it bites heads off, rather than just the hands that feed it.