(Wednesday blog)
I'll keep it short today.
Does demanding that people "kill Tories" incite violence?
You'll probably have seen pictures in the mainstream media of the banner that lefties hung from a bridge in Manchester (at the start of the Tory Party conference) which seemed to suggest that they wanted to kill thousands of Tories. Here's the picture most of you will have seen:
But while Labour and LibDem MPs howl in confected outrage at Boris Johnson calling the Benn Bill a "Surrender Bill" and claim Johnson's language is encouraging violence against them, here are a few photos of what Corbyn's supporters are up to:
And this: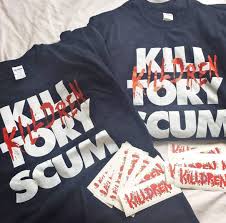 And this: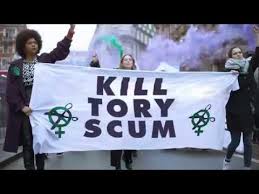 You don't often see Tory supporters marching with banners saying something like "Kill Labour scum". And can you imagine the foam-flecked outrage from the likes of C4's Jon 'F**k-the-Tories' Snow, Kathy 'Screecher' Newman and the small fat guy with the long name who seems to hate everything about Britain if people were to march demanding "Kill Labour scum"? We'd never hear the end of the howls of "nazis" and "fascists" and "racists" and so on and so forth.
But when Corbynistas demand "Kill Tory scum" and hang effigies from bridges, our mainstream media seem to not notice.
"Nazi scum- off our streets"
The short video below comes from Canada. It shows an Antifa (anti-fascist) demonstration outside an event promoting (ironically) free speech. As we all know, free speech is anathema to lefties who demand that everyone submits to their ludicrous world view. Hence we see distinguished people being fired and having their careers ruined for daring to speak out against things like the supposed Climate Emergency, Trans rights, White Guilt, 100 genders etc etc.
You can see how bravely the masked antifa-demonstrators confront an elderly couple who are trying to cross the road as the antifa-demonstrators chant "Nazi scum – off our streets". It's not even clear that the elderly couple being abused even attended the 'Free Speech' event. But that doesn't matter to the anti-fascists – anyone who isn't with them is automatically right-wing, racist, homophobic scum.
Enjoy this video of our highly-educated youth fighting for justice: