(Tuesday blog)
The great 'hyperbolisation'?
The West-hating, progress-hating, freedom-hating, civilisation-hating ecofascists must be congratulating themselves. Firstly they've managed to terrorise millions of vulnerable young people by their 'hyperbolisation' of a non-existent threat to the human race. Originally they called it 'Global Warming'. But the Earth inconveniently stopped warming just after Al Gore and his bunch of fantasists got their lucrative Nobel Prize. So the ecofascists changed the name of the great threat to 'Climate Change'.
But that wasn't dramatic enough. So most of us ignored their warnings of impending disasters which never happened. No problem, they changed the name again to 'Climate Breakdown' then 'Climate Emergency' before settling on the much more impressive 'Extinction'. After all, you can't get that much more hyperbolic than threatening us with 'Extinction'.
The ecofascists may not know anything about the climate. But they sure know a lot about marketing and branding.
Child abuse of the psychologically vulnerable?
The next trick was to hide behind children so, if anyone criticised the ecofascists, the ecofascists could accuse them of 'child abuse'.  Not only did they hide behind children, but they chose one child who had enough psychological problems to fill a pantechnicon – the clearly unbalanced (according to her parents) Greta Thunberg.
Instead of trying to provide as normal a life as possible for their psychologically-damaged child, Greta Thunberg's (IMHO) self-serving parents filled her head with all sorts of ecofascist nonsense. Here's what a clearly crazed Greta said at the UN yesterday:
"We are in the beginning of a mass extinction and all you can talk about is money and fairytales of eternal economic growth. The science on climate change had been "crystal clear" for more than 30 years.
"If you really understood the situation and still kept on failing to act then you would be evil. And that I refuse to believe. How dare you pretend that this can be solved with just business as usual and some technical solutions. You are failing us but young people are starting to understand your betrayal. The eyes of all future generations are upon you. If you choose to fail us I say we will never forgive you."
This was met with unbounded adulation by UN leaders and the mainstream media.
I suspect Greta actually believes this rubbish although the facts show that Greta's claims are total balderdash. Why do I write that?
1. The world's population is growing faster than ever before: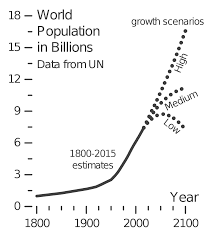 2. In spite of this massive growth in the world's population, fewer people are dying from famine than ever before: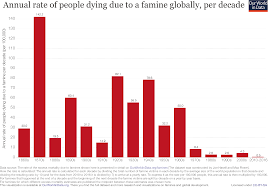 3. In spite of explosive population growth, and a supposed 'Climate Emergency', fewer people are dying from extreme climate events than ever before: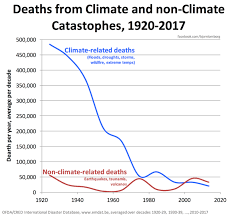 4. CO2 is good for you. CO2 is a trace gas in the atmosphere accounting for just 0.004% of the atmosphere (400 parts per million – ppm). CO2 in the atmosphere is the tiny, almost imperceptible bit in the lower right-hand corner of the picture below: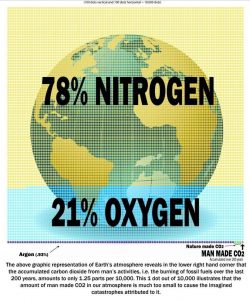 CO2 is increasing as a percentage of the atmosphere by 0.00002% a year. Owners of commercial greenhouses often install CO2 generators to improve plant growth and yields. Typically, the level of CO2 in a commercial greenhouse will be over 1,000 ppm. With the current rate of increase of CO2 in the atmosphere of 2 ppm per year, it would take the Earth 600 years to reach the same concentration as in a commercial greenhouse. Moreover, people working in commercial greenhouses don't suffer any health effects from the high levels of CO2.
5. Ranting disturbed Greta claims The science on climate change had been "crystal clear" for more than 30 years. That's quite a convenient time period to choose as just 40 years ago the supposed 'scientific community' were predicting a climate crisis and mass starvation and deaths from a new Ice Age: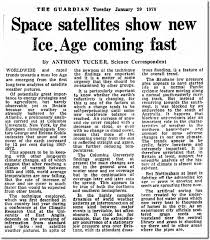 These are exactly the same claims the ecofascists are now making for supposed 'Global Warming'.
(Hopefully readers will notice that the above article warning of a new Ice Age comes from the Guardian newspaper which is now warning of a global warming catastrophe –  these people have no shame)
In fact, there is no evidence at all supporting any of the claims being made by Saint Greta and the ecofascists. But while the ecofascists are cynically manipulating Greta Thunberg to get greater control over our lives, I suspect the brainwashed, psychologically-vulnerable Greta Thunberg actually believes the nonsense she has been carefully trained to spout at every possible opportunity.
This is child abuse.
Anyway, here is a visibly distressed, psychologically-damaged child falling apart in public to serve the cynical interests of those who are using and abusing her.
Greta Thunberg's parents should have stopped this child abuse long ago and given her as normal a life as possible!