(Thursday blog)
Never grill a Greeny
Hopefully you've all heard of a new traumatic psychological condition affecting the Western world's youth – climate anxiety:
Yup, our brainwashed, snowflake children are so worried about being wiped out by a supposedly impending climate catastrophe that many are having nervous breakdowns. (Though I have to admit that, were I ever to come face to face with mad Saint Greta the Swedish eco-loonie, I'd probably have a breakdown too)
Anyway, some ghastly Greeny woman was being interviewed on this new phenomenon – climate anxiety – on the TV news yesterday evening. In the interview she claimed that climate anxiety was quite a normal response from children due to the "thousands of people dying" from extreme climate events. Let  me therefore repeat a graph I used in my blog on Tuesday this week;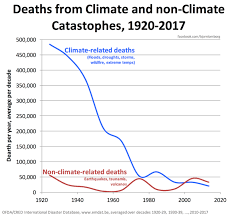 Ooops. Very few people are actually dying from 'climate catastrophes'. In fact, more people die from the cold each British winter because they can't afford to heat their homes due to Greeny taxes than die from 'climate catastrophes' worldwide.
But what was interesting about the interview was that the Greeny woman wasn't challenged by the interviewer. Instead she was encouraged to paint as bleak a picture as possible. Had the interviewee been from some supposedly 'right-wing' organisation they would have risked drowning in saliva as a furious foam-flecked Matt Frei or Jon Snow or screaming Kathy Newman laid into them harassing them and never letting them get a chance to explain their position. But when a lefty or Greeny is being interviewed, they're never grilled, they're never challenged on their 'facts' and they're never browbeaten by an enraged interviewer.
The mainstream media's policy seems to be – you never grill a Greeny.
Jo Swinson – a really honest truthful person or a lying liar lying?
As LibDem leader, Jo Swinson, prepares to be Britain's next Prime Minister, she gave a rousing speech to her adoring millions at the LibDem conference in Bournemouth.
To back up her claim to be leading a newly-invigorated LibDem Party, Swinson invoked the ghost of that great LibDem leader and reportedly serial adulterer Paddy Pantsdown and claimed how proud Pantsdown would have been to see today's LibDem resurgence. But hold on a minute. Swinson has, as far as I understand, pledged to ignore the result of the 2016 EU Referendum and to work to revoke Article 50 so Britain will remain shackled to the EU forever.
Yet when hearing the results of the 2016 Referendum, Pantsdown basically said that anyone who refused to accept the Referendum result would be (I paraphrase) a total scumbag. This suggests that Pantsdown wouldn't have been proud of his party were it to reject the Referendum result as Swinson is now doing.
I, of course, believe that the Right Honourable Jo Swinson is an honest, hard-working, honest, decent, caring, wonderful, truthful human being. But I could imagine that there may be some horrible, cynical, nasty people out there who feel that the video below suggested Swinson was a lying liar lying by claiming old Pantsdown would approve of the direction in which she was leading her party – ignore the Referendum result and revoke Article 50.
Nasty, horrible people to think such things: