(Tuesday blog)
The world's most dangerous plane?
You might remember a glorious incident in August 1999. During a visit to an electronics factory in Scotland, Prince Philip saw a messy fuse box and said it looked "as though it was put in by an Indian". Within hours, Buckingham Palace started grovelling to the politically-correct: "The Duke of Edinburgh regrets any offence which may have been caused by remarks he is reported as making earlier today. With hindsight, he accepts what were intended as light-hearted comments were inappropriate."
Anyway, what's that got to do with anything?  Here's the world's most dangerous plane – the Boeing 737 Max: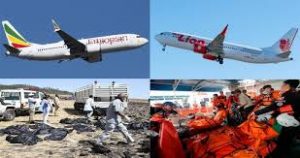 The plane has been grounded after a few hundred people were killed in two crashes – Lion Air and Ethiopian Airlines – within a few months of each other. The crashes have been blamed on software issues which pushed the planes' noses down when the pilots were trying to climb after take-off. And while trying to fix these problems, Boeing has found further software problems which will further delay the plane ever getting certification to fly again.
Why blame the Indians?
Well it turns out that this wonderful flying machine has been partly built in India, not America as most passengers (alive or dead) might have thought. Let me explain:
From what I understand, Boeing have been trying for years to break into the Indian aerospace market which is dominated by Airbus. The American plane-maker and its subcontractors have been moving ever more work to India and have relied on temporary workers making as little as $9 an hour to develop and test software, often from countries lacking a deep background in aerospace — notably India.
In offices across from Seattle's Boeing Field, recent college graduates employed by the Indian software developer HCL Technologies Ltd. occupied several rows of desks, said Mark Rabin, a former Boeing software engineer who worked in a flight-test group that supported the Max.
The coders from HCL were typically designing to specifications set by Boeing. Still, "it was controversial because it was far less efficient than Boeing engineers just writing the code," Rabin said. Frequently, he recalled, "it took many rounds going back and forth because the code was not done correctly."
Boeing's cultivation of Indian companies appeared to pay dividends. In recent years, it has won several orders for Indian military and commercial aircraft, such as a $22 billion one in January 2017 to supply SpiceJet Ltd. That order included 100 737-Max 8 jets and represented Boeing's largest order ever from an Indian airline, a coup in a country dominated by Airbus.
Apparently HCL engineers helped develop and test the Max's flight-display software, while employees from another Indian company, Cyient Ltd., handled software for flight-test equipment.
Anyone who has ever dealt with an Indian call centre – like those used by the useless HSBC – might, at this point be tempted to scream: "Aaaaarrrrrgggghhh!!!" After all, it's one thing for an Indian call centre to completely cock up your bank and credit card transactions and leave you stranded with no access to your money. But designing safety-critical software for passenger planes is perhaps slightly more serious.
Boeing, of course, said the company did not rely on engineers from HCL and Cyient for the Maneuvering Characteristics Augmentation System, which has been linked to the Lion Air crash last October and the Ethiopian Airlines disaster in March. The Chicago-based plane-maker also said it didn't rely on either firm for another software issue disclosed after the crashes: a cockpit warning light that wasn't working for most buyers. And Boeing issued the usual corporate guff press release: "Boeing has many decades of experience working with supplier/partners around the world. Our primary focus is on always ensuring that our products and services are safe, of the highest quality and comply with all applicable regulations."
Moreover, in a statement Indian firm HCL said it "has a strong and long-standing business relationship with The Boeing Company, and we take pride in the work we do for all our customers. However, HCL does not comment on specific work we do for our customers. HCL is not associated with any ongoing issues with 737 Max."
But some people, who know a little about Boeing and safety-critical software development, seem to have a different opinion:
I heard of Boeing laying off developers software engineers here on the east coast making $135,000 to outsource to India tech companies paying $20k or less. Language barriers persist and takes months instead of weeks for completion.
Many, many, many years of experience have shown that in almost all cases, outsourcing software development to a foreign country doesn't work. It looks great on paper, but language differences such as differing interpretations of some words, cultural differences such as who can red flag an issue, ethical issues such as accepting sub-standard decisions rather than complain and possibly hurt their career … and the list goes on and on and on. While this may be acceptable for PC software development, it just doesn't fly (pun intended) on planes where lives are at stake
Writing safety critical software is not only very skilled but it requires specific training and process knowledge. Outsourcing to someone who just says "Yeah, we can do it cheap" is negligence or worse
Anyway, I doubt you'll see this story on the BBC or C4 News because to suggest that our friends from India do shoddy, third-rate work would be waaacccciiiiissssttttt!!!!