(Monday blog)
Continent of No Hope?
Using simple arithmetic, I worked out how many more Africans are born every minute. Assuming that the population of Africa increases by around 50 million a year, this works out at around 100 more Africans every minute, 6,000 more Africans every hour, 144,000 more Africans every day and, of course, about one million more Africans every week:
I wonder how Africa is going to find food, water, homes, jobs, schools, hospitals etc etc for all these teeming millions?
Or do our rulers think that the only solution to this unsustainable population explosion is to bring millions of Africans to Europe?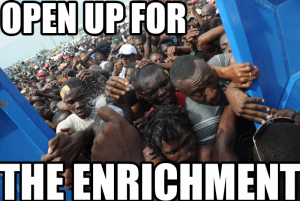 Empire of Dust?
Of course, were Africans capable of developing their own countries, they might be able to accommodate their rapidly increasing population. But, sadly, there are few signs of this.
I came across a Belgian documentary film made in 2011 called Empire of Dust. It follows a Chinese Chinese road engineer Lao Yang and his African translator Eddy. They both work for a company called CREC (Chinese Railway Engineering Company). The engineers have just set up camp near the remote mining town of Kolwezi in the Katanga province of the RDC. The goal of the company is to redo the road – covering 300km – that connects Kolwezi with the capital of the province Lubumbashi. Lao Yang is head of logistics of the group.
The film exposes the complete inability of the Africans to do any constructive work. In the brief trailer below, the Chinese engineer expresses incredulity at the stupidity and backwardness of all the Africans he has to deal with and he asks Eddy how it was possible to have been colonised by White Europeans and to have learnt absolutely nothing from them. Moreover, the Chinese engineer cannot understand how the Africans have allowed all the infrastructure – roads, railways etc – built by the colonisers to rot away. And he criticises Africans for going backwards since the colonisers left.
I, of course, being a brain-dead, virtue-signalling, hug-a-rapefugee, woke libtard believe that it's all Whitey's fault that all African countries are poverty-stricken, utter sh*t-holes. However, the many people I have spoken to, who have actually worked in Africa, say the situation is hopeless – that Africans are incapable of getting organised, incapable of building anything worthwhile, incapable of maintaining even the simplest equipment, incapable of progressing.
Anyway, here's Leo Yang asking Eddy why Africans are so totally useless: