(Wednesday blog)
I sometimes worry that too many of my readers are a bit old-fashioned and believe in such silly, outdated things as patriotism, community cohesion, controlled immigration, taking personal responsibility for one's actions etc etc. So I feel that one goal of my modest little blog should be to open readers' minds, to make them more 'woke', to help them adjust to all the wonderful ways society is changing for the better thanks to things like continual victimhood, globalism, uncontrolled immigration and the willful destruction of national cultures and identities by the internationalist ruling elites.
That leads me on to today's Big Question for my readers – How many genders are there?
Yippee! More Twitter outrage
Former Olympic swimmer Sharron Davies has just got into a bunch of trouble for tweeting: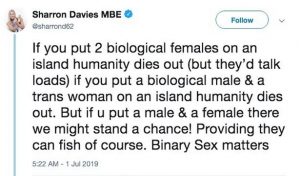 Davies has previously opined:
These tweets have predictably resulted in a flood of abuse and accusations of "transphobia" and "hate speech" from the usual idiots who spend their lives trying to find something to be offended by. Here's Owen Jones, who can always be relied on to wade into any argument with the most outraged 'woke' views: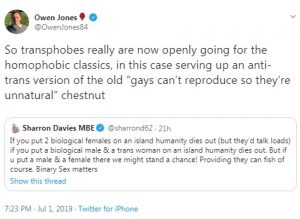 Most other reactions from the 'woke' community are too obscene or extreme to be featured here.
How many genders are there?
This brings us back to today's Big Question – How many genders are there?
UK Facebook users can now choose from one of 71 gender options, including asexual, polygender and two-spirit person:
Users can choose a different gender option from the previous male and female choices by selecting 'custom' in the gender tab of their profiles. I believe that originally there were only 50 gender options. But these were increased to 71 following howls of outrage by the people who self-identify with the other 21 gender options that Facebook didn't include.
In addition, people who select a custom gender will now have the ability to choose the pronoun they'd like to be referred to publicly.
There's even a book now which can explain to old-fashioned 'binary' fuddy-duddies the wonders of all the new genders which (as far as I know) didn't exist just a few years ago:
See, with snouts-in-the-trough.com you learn something new every day!!!!!