(weekend blog)
All week BBC TV and radio have been running programmes about the psychological problems young people are supposedly having due to the 'pressures of modern life". And sure enough, the lead story on BBC Breakfast on Sunday morning was "Government to launch new drive to help young people with mental health problems".
Of course, the BBC were blaming the Government for "not providing sufficient mental health support for young people" as various BBC reporters whined about "long waiting times" and a "postcode lottery" and "betraying young people" and the "risk of suicide" etc etc
To support their case, the BBC managed to produce an almost endless stream of stupid, 'we're-all-victims', libtard 'experts' and 'psychologists' and 'youth mental health support workers' and suchlike who all bleated on about how "It has never been more difficult to be a young person". And of course, there were also plenty of yoof interviewed moaning about how complex and challenging their lives are.
"Bollox" I thought "double bollox and triple bollox".
All this bleating and whining and blethering and moaning was apparently due to some new report by some mental health charity which claimed:
A tenth of girls aged 16 and 17 were in contact with mental health or learning disability services last year
Figures from the NHS, published for the first time, show that 69,000 girls in the age group, or 11 per cent, were referred to the services, including those offering assessment or treatment for autism
There were 52,000 boys in the same age range — eight per cent — with open referrals
NHS Digital said that the true figure for people younger than 18 could be higher. The numbers do not include people being treated for mental health conditions by their family doctor
A spokesman for the NSPCC said: "These findings sadly reflect what children have told our Childline service, with one in three counselling sessions last year relating to mental and emotional health and wellbeing issues."
OK, I'm lucky. Being a babyboomer, I haven't had to go and fight in any wars. But I rather suspect that those sent to fight in the trenches had slightly more difficult things to cope with in their (usually brief) lives than today's yoof: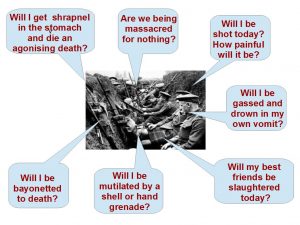 I do agree that with massive student debt and ludicrously-high house prices (due to uncontrolled immigration) young people have some problems that previous generations may not have had.
But in general, I rather suspect that today's self-obsessed, narcissistic, social-media-addicted, snowflakes have a much better life than most previous generations:
Oh dear. Sorry snowflakes. Have I offended you? You'd better report me to the police for a 'hate crime'. How about 'snowflakophobia'? Yes, I must be a 'snowflakophobe' because I have dared criticise the snowflake generation. And the snowflake generation cannot cope with any criticism or with anyone who doesn't agree with their 'we-love-Jeremy', 'all-immigrants-are-welcome', 'all borders-should-be-torn-down' views.