You probably saw the reports yesterday from PC Plod claiming that the number or supposed 'hate crimes' had shot up by 29% from 62,518 in 2015-16 to 80,393 offences in 2016-17
This was apparently the largest increase since the Home Office began recording figures in 2011-12
Let me just remind you of the extraordinarily all-encompassing definition of a 'hate crime' from the Crown Prosecution Service (CPS):
'The Association of Chief Police Officers and the CPS have agreed a common definition of hate crime: "Any criminal offence which is perceived by the victim or any other person, to be motivated by hostility or prejudice based on a person's race or perceived race; religion or perceived religion; sexual orientation or perceived sexual orientation; disability or perceived disability and any crime motivated by hostility or prejudice against a person who is transgender or perceived to be transgender."
So, if I see you calling someone a "dickhead" and I believe you have called that person a "dickhead" because I believe you perceive they are in some way mentally challenged, then you have committed a hate crime purely because I think you have. So much for being innocent until proved guilty.
Personally, I suspect the police's figures of a supposed rise in 'hate crimes' are total bollox. What I suspect is happening is that the definition of a 'hate crime' keeps getting broadened by our rulers to crush anyone daring to criticise their policy of race replacement and, due to political correctness, more and more police time is being wasted on trying to find supposed 'hate crimes' rather than on catching real criminals.
But there's another not totally insignificant problem with the new catch-all criminal offence of 'hate crimes' – it seems that the white indigenous population are much more likely to be punished for 'hate crimes' than anyone from a foreign country or culture.
This, for example, is apparently a 'hate crime' – putting a bacon on a mosque door handle – or as the police claimed "attacking a mosque with a bacon sandwich":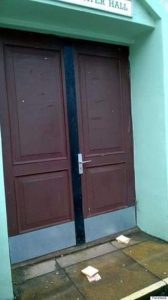 For this 'appalling hate crime' Kevin Crehan was sentenced to one year in prison where he died. He was probably murdered by a certain peaceful group in prison, but we'll never be told the truth about Kevin Crehan's death.
However, this is apparently NOT a hate crime:
Nor is this: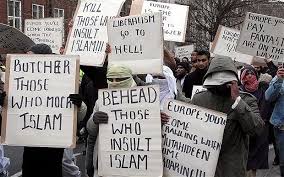 Nor is this: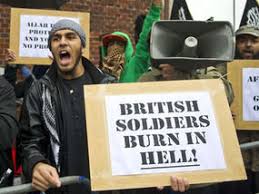 And, of course, in Britain making a sarcastic comment in a supermarket or on the street about a woman wearing a Burkha is a 'hate crime' whereas raping over 40,000 white girls over a 15 year period in many of our major cities is not. Raping and sodomising white girls is apparently not racist or a 'hate crime' even though white girls were targeted which I would have thought of as 'racist', but clearly I have misunderstood how 'hate crimes' should be identified.
Welcome to Canadistan
And here's a lovely story from the People's Caliphate of Canadistan. A white Canadian has just been sent to prison for the 'hate crime' of scrawling "No more M*sl*ms" on a few bus-stop benches. But a taxi-driving gentleman from our favourite religion avoided prison even though he, like several of his taxi-driving co-religionists, had sexually assaulted a white teenager.
I rest my case: