The stupidity of lefty libtards
I imagine many people reading this and better websites (breitbart, thereligionofpeace etc) are reasonably sensible. So they probably can't imagine the extent of the stupidity of the ever-outraged, ever-complaining, ever-twitterstorming lefty libtards who hate the West and are working to destroy Western civilisation.
So, I thought I'd help. Here's the wonderful Cressida Dickhead  Her surname is 'Dick' and she's (incredibly) the 'Head' of the Metropolitan Police: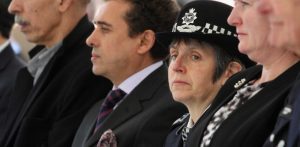 Cressida Dick, Commissioner of London's Metropolitan Police, says the diversity of those killed in the London Bridge terror attack is "what makes our city so great."
Dick, who took over the department in April, pointed out that the victims were British, French, Australian, Canadian, and Spanish.
"In terms of our witnesses that we've spoken to so far, out of the 300-odd people, there are about 20 different countries of origin. And the London British population comes from all kinds of backgrounds and every kind of faith and ethnicity," she said.
"We believe of course that that's what makes our city so great." She added "It's a place where…….. diversity gives us strength."
Yippee! So the more 'diverse' London becomes, according to this utter Dick, then the stronger the city is. Yet the more 'diverse' London becomes, the more terrorist attacks there will be. Makes sense to me.
If Dickhead was just a typical idiotic libtard, her absurd views wouldn't matter.
But she's a top cop and is probably one of the more intelligent libtards.
Aaaarrrrgggghhhh!
Problem is, Ms Dickhead, the people doing the murdering weren't 'diverse'. They were all from one community. You forgot to mention that!
The libtard brain
Fortunately, psychologists have tried to grasp the extent of stupidity of the typical libtard brain: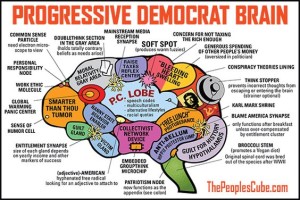 A libtard beauty?
But what many libtards lack in mental prowess, they make up for in physical beauty. Here's a typical lovely libtard lady? Or is it a man? Or is it a trans-whatever? Who knows?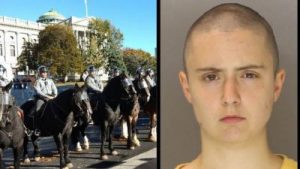 Why am I showing her picture? Because on a libtard 'hope not hate' protest she (or he or it) was arrested for carrying a long pole with a large nail in the tip which he (or she or it) used to stab police horses in the neck. Nice lady (or man or whatever)? Hope not hate!
My latest book
Oh dear. I thought my readers would show some support for my website by buying a copy of my latest book FORGET THE FOREPLAY. They just had to buy it. They didn't have to read it. Well, around two in every thousand readers bought a copy. Apparently the other 998 in every 1,000 readers couldn't possibly afford the expense of a few pounds to show some support for the work I put into this website.
Police crack down on 'extremism'
And finally, here's a very short (2 minutes) video featuring Tommy Robinson. Although I don't always agree with Mr Robinson, the absurdity of the British police's political correctness he exposes is wonderful. Having also been threatened by the British police over what I write, I understand how the shopkeeper being interviewed must feel: